Bill & Hillary Clinton Infuriated With Anthony Weiner & Huma Abedin Playing Off Association In Sex Scandal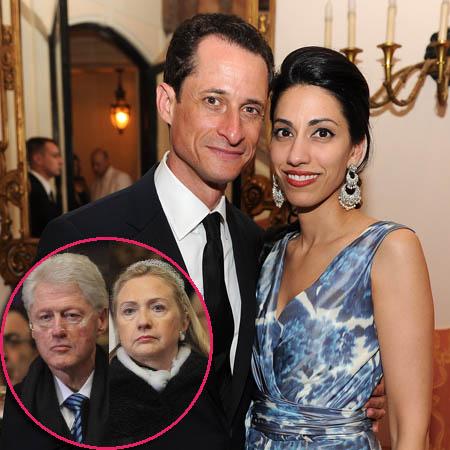 Anthony Weiner and Huma Abedin are in danger (no, not Carlos) of alienating their most precious of political patrons: Bill and Hillary Clinton.
The former, and possibly future, first couple has had enough of the oversexed politician and his cuckolded spouse intimating that, like the Clintons of the late 1990s, Weiner can get the job done in office, regardless of whatever blush-worthy sexual shenanigans are going on behind-the-scenes.
Article continues below advertisement
"The Clintons are upset with the comparisons that the Weiners seem to be encouraging -- that Huma is 'standing by her man' the way Hillary did with Bill, which is not what she in fact did,'' a political source told the . "The Clintons are pi**ed off that Weiner's campaign is saying that Huma is just like Hillary.
"How dare they compare Huma with Hillary? Hillary was the First Lady. Hillary was a senator. She was Secretary of State."
The Clintons, undoubtedly with an eye on the 2016 presidential race, have begin to put a distance between themselves and the controversial couple so as not to get hit with any political shrapnel.
"Hillary didn't know Huma would do this whole stand-by-your-man routine," the source told the paper, "and that's one of the reasons the Clintons are distancing themselves from all this nonsense."
As we previously reported, the Democrat's mayoral campaign took a hit last week after Nik Richie published the salacious selfies of the politician on TheDirty.com, revealing the messages Weiner sent to a woman. He addressed the latest scandal in a news conference, flanked by Huma, reiterating he's still moving forward with his campaign. By his own admission, Weiner has carried on sexual banter online with as many as "6 to 10" women, some after his 2011 resignation from Congress.