Amanda Bynes Claims She Was 'Roofied' With GHB On Blind Date -- See The Text Messages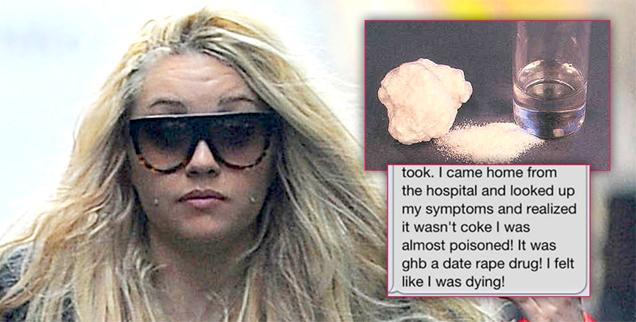 Amanda Bynes told one of her only friends, Ana Rivera, that she was "roofied" during a blind date with the drug GHB and RadarOnline.com has all the details and text messages about the incident from Amanda herself.
According to Ana — who claims she met Amanda last November on the street in New York City — the troubled actress sent her a text message in February detailing a date with a guy who she thought she was doing cocaine with, but now believes it was the date-rape drug, GHB.
Article continues below advertisement
"She sent me a text to tell me that she got 'roofied' one night, when she was on a date with a guy and ended up in hospital," Ana said.
"She thought he was giving her coke, but when she sniffed it, it made her feel like she was dying, and ended up in hospital. I was like you can't see that guy again.
See Amanda's text message conversation with Ana below:
"That was one of the last times I talked to her," Ana said.
"I suddenly couldn't get hold of her and then read she'd changed her phone and email and wasn't talking to anyone. It was like she was dropping everyone at once."
As RadarOnline.com previously reported , Ana is not surprised by Amanda's bizarre behavior or her 5150 psych hold, and thinks the former Nickelodeon star will die if not placed in conservatorship of her parents.
"She's good at being lucid when she's crazy. If professionals let her out, she will pull the wool over her eyes. If she is not pinned down to the bed, she will run away," Ana said.
Article continues below advertisement
"She is worse than Lindsay Lohan or Britney Spears , no one can reach her. She's going to have to be there for months and she could even be institutionalized for the rest of her life."
Ana also claimed Amanda killed her last dog (not the one involved in the driveway fire with her) by letting it jump off a cliff in the Hollywood Hills.
"I was really concerned when she got that dog for its safety, as the last Pomeranian she had in Los Angeles that she left just wander away and it fell off the cliffs in Hollywood Hills. She told me about it and started crying when talking about it," Ana said.
"I'm glad the dog is safe and with her parents. She cant even take care of herself let alone a dog, although without that dog I dread to think what would have happened to her. Over the last year, they've been her only friends."