Exclusive
Storage Wars Mutiny! Another Cast Member Threatens To Sue Network, Shut Down Show – & It's Caught On Tape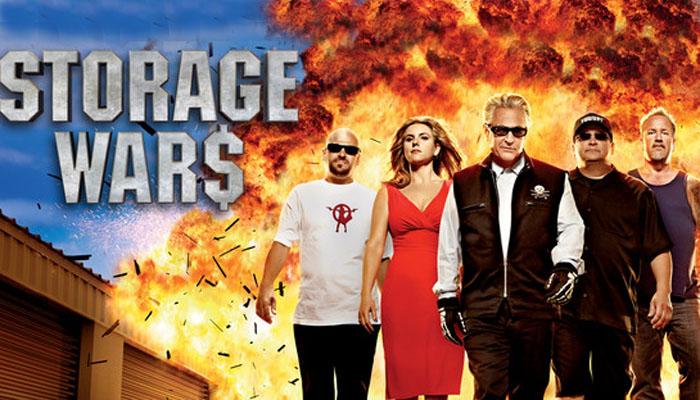 A Storage Wars cast member hatched a plan to sue the network for more money and walk out if demands weren't met, and the entire thing was caught on tape, RadarOnline.com has learned exclusively.
The embattled A&E show, which has been rocked by revelations the show is faked by planting valuable items in storage lockers, is now facing a new scandal and RadarOnline.com has all the details.
Dan Dotson, the show's main auctioneer, discussed a plan to demand more money, sue the network and even have most of the cast walk out. And his entire plan was caught on tape!
Article continues below advertisement
RadarOnline.com has listened to the tape.
The network and the show's production company is currently being sued by former cast member Dave Hester, who charged lockers are "seeded" and exposed other phony elements of the hit reality show.
Now, RadarOnline.com has gone behind the scenes and discovered that Hester was not the only cast member at odds with the show.
"I want to know that everybody's f**kig elbow to elbow," Dan Dotson says, discussing a plan for cast members to negotiate for more money together.
Article continues below advertisement
And when he talks about a cast walk out, Dan says this about the network: "I just don't think they're going to want to write all these advertising checks back to people because they're not going to have a f**king show. Or if they do have a show watching the ratings go down."
VIDEO: JLo Reality TV Show Caught Faking Scenes
Dotson also says he wants a piece of the profits of the show's spinoffs. A&E now has Storage Wars franchises in New York and Texas with Florida on the way.
"Here we all are, we made the f**king show and now they've copied it, we want part of it," Dan says. "We're going to sue you guys for west coast and that one (New York) and …whatever one they come out with.
"And you can stop this lawsuit but you're going to have to give us this much money and you're going to have to make us partners on this. That's the only way."
He also said: "If we are being represented by the right people and we've got the right information and everybody feels strong, then we stand out and we put our finger up to A&E we say 'f**k you' about it."
The show is finishing its fourth season and this conversation took place before the current season. As RadarOnline.com reported exclusively Dan and his wife Laura were left out of some extra episodes filmed four season four.
Dan's explosive anti-network works were part of growing discontent by many cast members at the way they were treated by the network. Publicly the cast has remained positive toward A&E but privately, as the tape reveals, there has been a feeling of exploitation and plans hatched to get more money.