'I Got Something Out Of It': Keith Richards Defends Heroin Use, Slams Rehab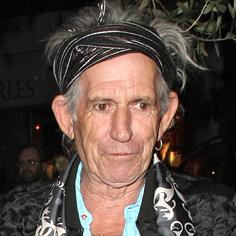 Most people live to regret their drug use, but not Keith Richards.
Oh he's still alive, but he sure doesn't regret using drugs!
The legendary Rolling Stone rocker, who delved into his excessive drug use in his book Life, makes some controversial comments about his relationship with heroin in the July 2013 issue of Men's Journal,, claiming that the opiate was part of his work ethic and helped him create his smash hits, and also slamming the establishment of rehab centers – and RadarOnline.com has the details.
Article continues below advertisement
Richards, who confesses that he had to quit doing "smack" eventually because of the law and cocaine because he fell on his head, had an interesting response when the interviewer, Stephen Rodrick, asked about heroin being part of his "Protestant work ethic."
"It was – either stay up or crash out or wake up," he responded. "It was always to do something. Also, I've got to confess, I was very interested in what I could take and what I could do. I looked upon the body as a laboratory – I used to throw in this chemical and then that one to see what would happen; I was intrigued by that. What one would work against another; I've got a bit of an alchemist in me that way. But all experiments must come to an end."
Richards does not believe that any damage was done by his drug use, and that it only enabled him to work harder.
"If I stayed up I got a few more songs out of it," he explained. "It's like Churchill said about alcohol, 'Believe me – I've taken a lot more out of alcohol than its ever taken out of me!' And I kind of feel the same way about the dope and stuff. I've got something out of it. Might've pissed off a lot of people!"
Article continues below advertisement
The 69-year-old, who now only drinks alcohol and smokes weeds, shuns the institution of rehab.
"I hate all this idea of rehab and giving stuff up because it just means you're hung up on it. It just means, 'OK, I'm drinking too much – I'll cut down."
He evens goes as far as criticizing his longtime band mate Ronnie Wood, who has been to several rehabs over the years, suggesting that he checks in for the wrong reasons.
"Ronnie loves drama," he says. "He loves to talk to people he doesn't know. 'I can't wait to hear your story!' That's not my idea of an audience."