Exclusive
One Direction Looking To 'Swoop In And Replace' Justin Bieber, Capitalizing Off His Downward Spiral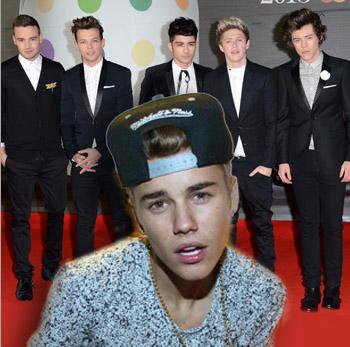 No one is happier about Justin Bieber's downward spiral and hard-partying ways than the boys of One Direction.
An insider close to the boy band exclusively reveals to RadarOnline.com that Justin's bad-boy behavior isn't boding well with his younger fans, and One Direction plans to capitalize on it.
"One Direction is benefitting greatly from Justin's a**hole behavior," the source said.
"All of the little girls that loved Bieber don't love him anymore because 'he's bad' and they are moving on to One Direction."
Article continues below advertisement
And it's not just the fans that have had it with Bieber — it's the parents.
"The parents of these young fans are resentful of Justin's behavior and don't think he's a wholesome influence on their children anymore," the source said.
"So they're pushing for their kids to like One Direction instead.
It's out with Bieber, and in with Harry Styles.
"A lot of the girls that loved Bieber are now crushing on Harry Styles," the insider told Radar.