Miley Cyrus Won't Stoop To Amanda Bynes 'Ugly' Level! Says Her Twitter Attack Is 'So Sad To Me'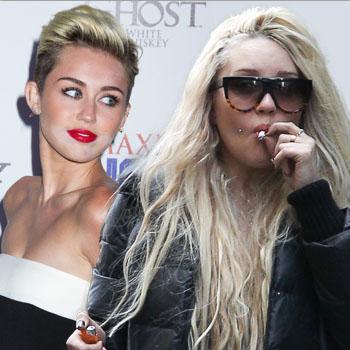 Miley Cyrus is taking the high road when it comes to Amanda Bynes' attack on her!
After the former Nickelodeon star slammed her on Twitter for being "ugly" on Tuesday night, Cyrus spoke about the incident during a radio interview, explaining that she feels sad for the downward spiraling star and explained why she refuses to address her directly about her mean words – and RadarOnline.com has the details.
Article continues below advertisement
"I won't even entertain that thought," the 20-year-old told Hot 95.5's Kane when asked about reaching out to Bynes.
"I think it's all so sad and I don't want to add any fuel to that fire. It's so sad to me," she said. "I was rooting for her comeback until she started attacking me, and I just thought it was hilarious that she mentioned my name the moment I was the worldwide trending topic on Twitter.
"It's just funny the moment you're a trending topic how many people want your name to come out of their mouth, so somehow they can associate and maybe they can become a trending topic," Cyrus added about the incident.
"Ur ugly," Bynes tweeted to Cyrus on Tuesday along with a photo of the Can't Be Tamed singer at the Billboard Music Awards, following it up by retweeting a magazine image of Miley without makeup and another image of her making a funny face.
Bynes recently gushed over Cyrus' on-again-off-again fiancé, Liam Hemsworth, who she got cozy with during one of his hiatus' from the Hannah Montana star.
Bynes also went in for another "ugly" round attacking Drake and Perez Hilton, going as far as calling the blogger a "pigton."
"I got a nose job to correct my nose – you're ugly because no surgery can correct your ugly face," she added later.