Is Paris Jackson A Cutter? History Of Suspicious Slashes On Her Wrists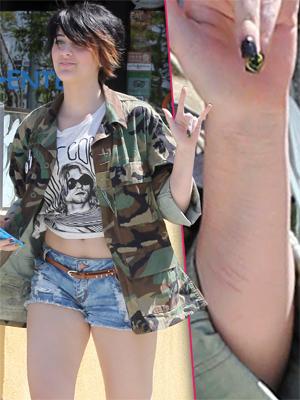 Paris Jackson's shocking suicide attempt has taken the world aback, but this may not be her first cry for help.
The late Michael Jackson's only daughter has been photographed more than once with suspicious looking slash marks across her arms and wrists, spawning speculation that she may be a cutter – and RadarOnline.com has the photos.
In images taken of Paris on April 28, she is throwing a peace sign and cutting marks can be visibly seen on her left arm.
Article continues below advertisement
The 15-year-old, who is a constant fixture on social media and frequently uploads photos of herself, rarely reveals her wrists and arms in several photos, wearing thick sweatbands as well as stacks of bracelets.
Paris was rushed to the hospital early Wednesday morning for a possible overdose.
If you, or anyone you know, is struggling with thoughts of suicide, please immediately seek help — you can speak with a skilled, trained counselor at a national Suicide Prevention Lifeline crisis center in your area, anytime 24/7 — call 1-800-273-TALK (8255)