Courtney Stodden: Going From C Cup To Double D 'Makes Me Feel More Sexy, More Like A Woman'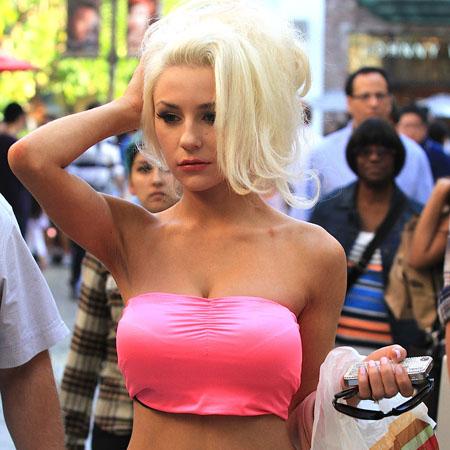 Courtney Stodden says her recent step up from a C cup to a double D via breast implants has instilled her with a newfound confidence, and we've got all the details for you on RadarOnline.com.
"I love the way my shape looks, it looks more Jessica Rabbit-y, and it just makes me feel more sexy, more like a woman," Courtney, 18, told E! News. "I just went and got my breasts to a double D and I feel very confident."
Article continues below advertisement
Courtney said she was previously "wearing Victoria's Secret bras … and giving people the illusion that she was actually two cup sizes bigger than she actually was.
"I was a size C and it looked like I had a double D, so I just felt more comfortable that way and I felt more put together."
Courtney said her husband, 53-year-old character actor Doug Hutchison, "was actually kind of against it at first," but has been "very supportive" of her decision nonetheless.
"I don't think anybody should go under the knife for other people," she said. "I think you should do it for yourself."
As we previously reported, her mother Krista told us that her celebrity daughter didn't want to hold anything back from the public in making the admission.
"Courtney has always been honest with the public and her fans," her mother said, adding that "she wanted to make sure she keeps that up by telling them that she did it and why."