Bette Midler Praises Michael Douglas For Revealing Oral Sex Gave Him Throat Cancer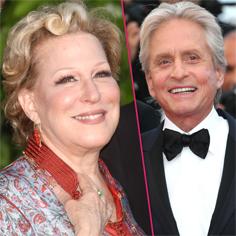 Article continues below advertisement
"Bravo to Michael Douglas (so brilliant in the Liberace biopic) for telling the world that throat cancer can be caused by oral sex thru HPV," she tweeted.
The Behind the Candelabra star opened up about the cause of his cancer to The Guardian newspaper during an interview over the weekend.
"No," he responded, when asked if he regretted his years of smoking and drinking in relation to his cancer, which has been in remission for two years.
"Because without wanting to get too specific, this particular cancer is caused by HPV human papillomavirus, which actually comes about from cunnilingus. I did worry if the stress caused by my son's incarceration didn't help trigger it. But yeah, it's a sexually transmitted disease that causes cancer. And if you have it, cunnilingus is also the best cure for it."