NEW INTERVIEW: Michael Douglas Tells Matt Lauer: 'Odds Are I've Got Throat Cancer Beat'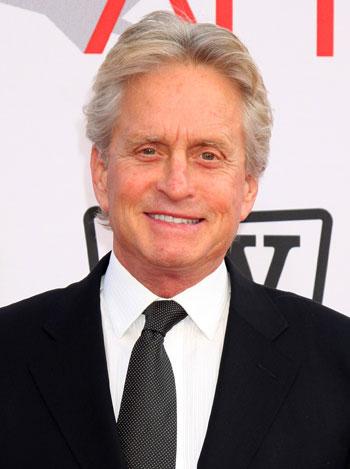 Michael Douglas has revealed the tumor is his throat has gone and he's got his cancer beat.
In his first television interview since undergoing treatment for advanced throat cancer, the 66-year-old Wall Street star revealed the heartwarming development.
"The odds are, with the tumor gone and what I know about this particular type of cancer, that I've got it beat," Douglas said during an interview with TODAY Show anchor Matt Lauer, that will air Tuesday.
Article continues below advertisement
In August 2010, Douglas was diagnosed with stage-four throat cancer and completed his chemotherapy in October.
In the meantime, Douglas has been photographed staying active and spending lots of time with his wife, Catherine Zeta-Jones, 41, and their two children Dylan, 10, and Carys, 7.
"It's put a timeline on my life," Douglas said in the new interview.
"I'm 66 now. You know, I'm fortunate I've got a mother who's 88. She'll kill me. She may be 87. My father's 94. So, you know, I feel good about those genes. But it's definitely a third act. And so you're a little more conscious of your time in how you choose to spend it."
MORE ON:
Catherine Zeta-Jones