Exclusive
EXCLUSIVE PHOTOS & DETAILS: Inside Michael Douglas' Cancer Battle: How He's Fighting Back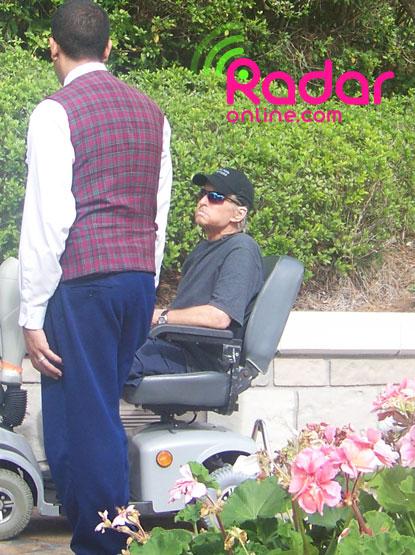 Michael Douglas is valiantly fighting back against the advanced throat cancer that ravaged his body, and the results are emerging for everyone to see, as these RadarOnline.com exclusive photos reveal.
On a recent Thanksgiving holiday at Disney World in Florida, the 66-year-old Wall Street star was using a wheelchair-like-scooter while his wife Catherine Zeta-Jones, 41, their son Dylan, 10, and daughter Carys, 7, enjoyed the park's rides.
Article continues below advertisement
Article continues below advertisement
It was said to have plummeted to 139 pounds at the peak of his treatment.
So when Douglas was photographed walking his pet dog on New York's Upper West Side on Thursday, it was apparent the star is winning his struggle against the stage 4 throat cancer that was first diagnosed in August.
"He looks thin, it's true, but that is because the chemo eats everything in someone's body," Burry told RadarOnline.com.
"Michael can't yet return to work and he can't work out physically, he has been ordered to take it easy and get his energy level up."
But the prognosis is good: Douglas is eyeing off his next movie project, the title role in Steven Soderbergh's Liberace, which starts shooting in May or June next year.
His spirits were buoyed with a Golden Globe nomination for Wall Street: Money Never Sleeps, which he said was welcome news.
Article continues below advertisement
"To be selected with these extraordinary nominees is an honor and boy was I ready for some good news!" Douglas, who was recognized in the best supporting actor category, said in a statement.
He's even planning on flying to Los Angeles for the big event, as Burry told RadarOnline.com: "Michael would like to go to the Golden Globes. He is planning on going."
RELATED STORIES:
EXCLUSIVE: Cancer-Stricken Michael Douglas Travels Hundreds Of Miles To Visit Son In Prison