Caroline Manzo On Feud With Sister Dina: 'We're Not Friends Right Now'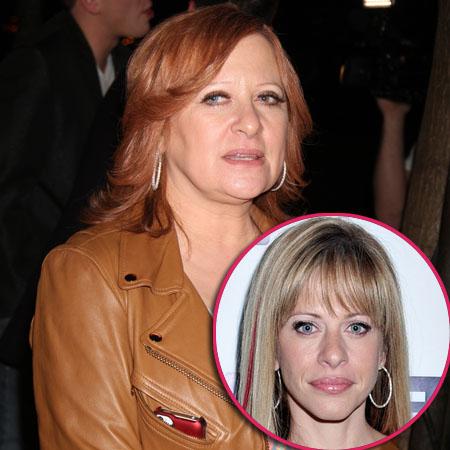 Article continues below advertisement
Caroline and her daughter Lauren said the Manzo clan had recently seen Dina.
"My sister -- I'll kiss her hello. It's just that we're not like friends right now," Caroline told Andy, without elaborating. And when a viewer called in to Watch What Happens Live to ask about the sisters' relationship, Caroline groaned, "Oh, my God. Stop asking me! It's the same!"
But Lauren said that she and brothers Albie and Chris "are all fine" with Dina.
Andy pressed Caroline about her sisterly rift, and she said she wished people would "get over it. It is what it is. It's not going to change. I can't do anything about it, so let it go now."
When Andy suggested she could do something about it, Caroline said cryptically, "How do you know I haven't tried?"
Caroline has reportedly said the feud began when Dina claimed her sister didn't support her post-RHONJ projects. Meanwhile, according to US Weekly, Dina denied rumors that Teresa Giudice also came between the Manzo sisters.
Article continues below advertisement
When a viewer asked why Caroline could try to advise feuding Teresa and brother Joe Gorga, given her own family problem, Caroline replied, "The bottom line is, I can recognize when something's wrong as I recognize when something's wrong in my own family. It doesn't mean I haven't tried. It doesn't mean that we haven't been talking and trying to work things out. It's living, breathing, and dealing with so you can recognize what's wrong in somebody else's and you're just trying to help. That's it."
Later, Lauren denied her mom has been meddling in the Gorga and Giudice family feud.
"In my opinion, as a family, from day one, we've been there for them and really embraced them and we wish nothing but the best for all of them," Lauren Manzo said.
Meanwhile, during more lighthearted moments on Andy's talk show, Caroline's sons Albie and Chris both confirmed they were "single and available" and Caroline's sister, Fran, who has also appeared on RHONJ, talked about her animal pets. The show ended with a game in which the three Manzo children answered questions about Caroline, with Lauren revealing her mom's celebrity crush is Simon Cowell!