Controversy Growing: Brooke Burke Attacks Melissa Etheridge For Saying Angelina Jolie Made 'Fearful Choice' By Having Double Mastectomy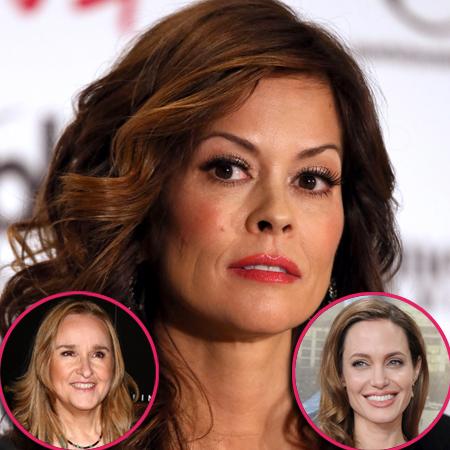 Adding more controversy to an already hotly debated issue, Brooke Burke-Charvet is criticizing Melissa Etheridge for comments the singer recently made about Angelina Jolie's choice to have a preventive double mastectomy.
It's an unusual situation to see three stars entwined in what is increasingly becoming a war of words over a personal choice regarding cancer.
Jolie had a preventive double mastectomy and revealed that she did it because genetic testing showed she had an extremely high chance of developing breast cancer. Her partner Brad Pitt hailed her choice as "brave."
Article continues below advertisement
But Etheridge, who is a breast cancer survivor, took exception to that characterization and in an interview called Angelina's decision more "fearful" than brave. Even after a perplexed Brad weakly responded, Etheridge reiterated her opinion.
Now Dancing With the Star host Brooke has come out supporting Angelina and attacking Melissa. Brooke went public recently with her own cancer battle, revealing she had thyroid cancer.
"I feel like to comment on somebody else's decision and their motivation and to criticize it in any way feels really inappropriate for me," Brooke said in a new interview, according to E!.
"And I bite my tongue because Angelina is not a personal friend and I can't speak about her experience, but doing something electively to avoid greats odds that you can have a fatal disease, not only is it brave, but I think it's pretty intelligent."
Article continues below advertisement
But Etheridge made it clear she did not think it was the intelligent move.
"I have to say, I feel a little differently," the lesbian rocker told gay newspaper The Washington Blade. "I have that gene mutation too, and a preventative double mastectomy is not something I would believe in for myself.
"I wouldn't call having a preventative mastectomy a brave choice. I actually think it's the most fearful choice you can make when confronting anything with cancer.
"It's the stress that will turn that gene on or not. Plenty of people have the gene mutation and everything, but it never comes to cancer, so I would say to anybody faced with that, that choice is way down the line on the spectrum of what you can do and to really consider the advancements we've made in things like nutrition and stress levels.
"I've been cancer free for nine years now, "she says, "and looking back, I completely understand why I got cancer. There was so much acidity in everything. I really encourage people to go a lot longer and further before coming to that conclusion."
Etheridge underwent chemotherapy treatment in 2005. Burke-Charvet had her thyroid removed, after, she says, doctors told her they could remove only half.
She said to E!: "Different medical experts have different opinions. For me, as a mother of four and a wife, I went and got a thyroidectomy. I'm fighting to stay alive for my family—at all costs."
radar_embed service=5min.com src="http://pshared.5min.com/Scripts/PlayerSeed.js?sid=1126&width=570&height=351&playList=517825920&sequential=1&shuffle=0"