Exclusive
DJ Who Sued Brandy Brags About Spending Settlement Funds & Teams Up With Her Ex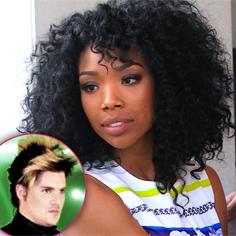 When R&B singer Brandy settled a lawsuit with house music artist Marc Mysterio she was forced to pay him a settlement and RadarOnline.com has exclusively learned that he teamed up with her ex-boyfriend Flo Rida to produce a song with those funds.
Mysterio had sued the singer for breach of contract in 2011, claiming that she reneged on an agreement to perform with him and a nasty legal battle ensued. She accused him of disparaging her name but ultimately settled the case and paid him an undisclosed amount of money.
Article continues below advertisement
Now he exclusively tells RadarOnline.com what he has done with some of Brandy's funds.
"My first purchase with the settlement money from Brandy was a new music studio which was used to produce this charity song with Flo Rida, whom she was dating at the time," Marc said about the song Booty On The Floor. A Boston native, Marc said they are donating all the proceeds from the song to The One Fund which will aid victims of the Boston Marathon bombing.
"So I'm grateful to Brandy and her family," Marc said about the song he and Flo Rida were able to produce.
"We finally got to make a difference together, all's well that ends well. Thanks Brandy from all of us in Boston."
To purchase the song to aid the victims of the Boston Marathon Bombing click here.