Stars, Students & Chefs Help One Fund Boston Raise Over 40 Million For Boston Marathon Bombing Victims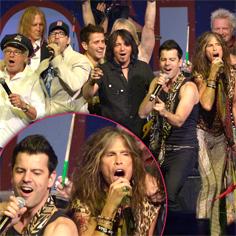 It takes a village – of celebrities, college students and chefs – to raise a ton of money for charity!
After the horrific Boston Marathon bombings on April 15, Massachusetts Governor Deval Patrick and Boston's Mayor Manino announced the formation of One Fund Boston, a charity to aid those most affected by the tragic events. In less than two months, the non-profit has raised more than $40 million with the help of a sold-out fundraising concert headlined by Aerosmith and some of music's biggest names, t-shirts sold by two college students and 100 local Boston chefs putting on a food tasting and auction event – and RadarOnline.com has the details.
Article continues below advertisement
Steven Tyler and his gang were joined by the band Boston, Jimmy Buffett, Dane Cook, James Taylor and The New Kids on the Block for the "Boston Strong" concert, where they performed for the sold-out crowd of 17,500. All proceeds went to benefit One Fund Boston.
But the big-name celebrities weren't the only ones to raise money for the fund!
Two Emerson College students have raised more than $ 880,000 by selling "Boston Strong" t-shirts (available for purchase here). One hundred local Boston chefs united to host "Boston Bites Back", a food tasting and auction event aimed at raising over $1 million dollars. BostonPRoud, a 3-venue event hosted by 40 Boston PR companies including Text100, raised over $65,000.
For more information or to donate money to this great cause, visit onefundboston.org.