Terror At The Boston Marathon: 7 New Developments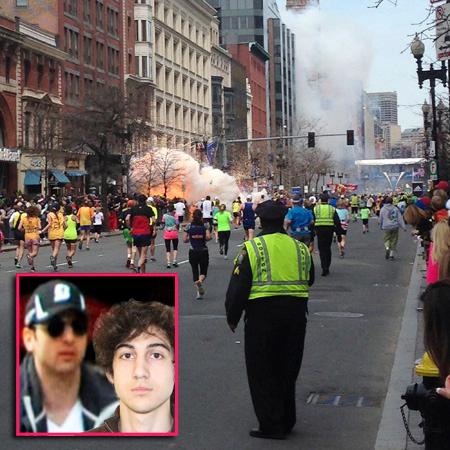 We've got all of Tuesday's latest developments in the wake of last week's horrific bombing at the Boston Marathon.
1. The Victims
In addition to the three people who died as result of the blast, 282 others were injured, the Boston Public Health Commission reported. As of Monday, three people remained in critical condition; at least 14 people lost all or part of a limb; and 51 people remained hospitalized.
Article continues below advertisement
2. Injured Bomber Communicates Via Writing With Investigators
Surviving suspect Dzhokhar Tsarnaev, 19, continued communicating with investigators via writing, as he cannot speak after a gunshot wound nicked his throat. The teen told officials he and his late brother, 26-year-old Tamerlan Tsarnaev, were Islamic extremists who worked alone in the marathon bombing. The teen, who was charged with using and conspiring to use a weapon of mass destruction, remains hospitalized in serious condition at Boston's Beth Israel Deaconess Hospital with injuries to his head, neck, legs and hands following the gun-battle and subsequent getaway attempt.
3. Carjack Victim Reveals Why Bombers Didn't Kill Him
The man who was carjacked by bombing suspects said the accused terrorists told him they "would not kill him because he wasn't American," NBC News reported, citing a police report. The man, whose identity has not been revealed, called the duo "brutal and cautious," and said they asked him if he knew about the bombing at the race, then bragged they "did that."
Article continues below advertisement
4. VP Joe Biden & Wife To Attend Funeral Of Slain MIT Officer
Vice President Joe Biden and his wife Jill will attend the funeral of Sean Collier, the 26-year-old MIT police officer killed by the Tsarnaev brothers prior to last week's shootout and manhunt, a White House official speaking under conditions of anonymity told the AP. The service will be held on Wednesday afternoon at MIT's Briggs Field in Cambridge, Mass.
|
|
5. Deafening Silence
Bostonians Monday observed a moment of silence at City Hall Plaza at 2:50 p.m. ET, exactly a week after officials said the Tsarnaev brothers detonated two bombs, killing three and injuring hundreds. A memorial with flowers, letters, and running shoes remains intact on Boylston Street, three blocks from the point of explosions. A moment of silence was also held at the White House, as well as the New York Stock Exchange.
Article continues below advertisement
6. Farewells
Services were held for two of the three people who perished in the tragedy -- restaurant manager Krystle Campbell and statistics student Lu Lingzi. Campbell's funeral was held Monday at at St. Joseph's Church in Medford, Mass, while a memorial service was held for Lingzi at Boston University's Metcalf Hall. Her father Lu Jun spoke at the service, which also included songs and testimonial from Chinese emissaries, and BU students and teachers.
"She's gone but our memories of her are very much alive," her father said through an interpreter. "An ancient Chinese saying says every child is actually a little Buddha that helps their parents mature and grow up."
No funeral announcements have been made for 8-year-old victim Martin Richard.
7. Athletic Ambassadors
Oakland Athletics sluggers Josh Reddick and Brandon Moss, in town to play the Red Sox, visited Aaron Hern -- an 11-year-old Bay Area native who was injured by shrapnel in the bombings -- as he recovered at Boston Children's Hospital Monday.
Article continues below advertisement
"It was awesome just to meet a family from the California area who had been through just as much as this whole city has, and to just brighten up their day and kind of get their minds off of what happened the whole week and forget where they're at for a few hours," Reddick told ESPN. "It was big. And you could see the kid's face light up, and even the parents' faces light up. For us to be able to get them out of that hospital scene for a while, it was a good sign."
Both Reddick and Moss used to play for the Red Sox.