Exclusive
Aaron Hernandez Turned To Drugs After Father's Death PLUS How Tim Tebow Tried To Save Him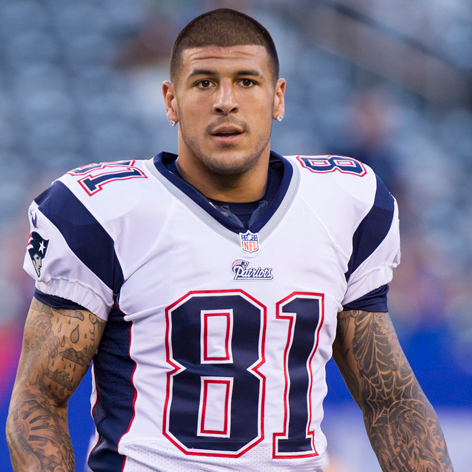 Former pro football player Aaron Hernandez turned to drugs after his father died in 2006, a life-changing event that helped put him on a path filled with chronic trouble - and RadarOnline has the details.
Hernandez, 23, is behind bars, denied bail, and charged with first-degree murder in the execution-style slaying of , 27, a friend and semi-pro football player.
But while many people tried to help Hernandez in the years after his father's sudden death, perhaps the most famous of them all was Tim Tebow, the legendary University of Florida quarterback.
Article continues below advertisement
Tebow, well known for his devout Christian beliefs, was crucial in convincing Hernandez to leave his home in Connecticut and play for the University of Florida.
At the time, Hernandez was starting to show the first signs of a troubled life and was expected to play college football at the University of Connecticut, where his brother was the quarterback.
But Hernandez made a visit to Florida, a visit that was partly hosted by Tebow, then a freshman quarterback and Hernandez made the decision - shocking to those close to him at the time - to leave home and play tight end for the Gators.
"But they weren't close at Florida," one person familiar with the program told Radar. "Tim obviously became the team's leader but he came from a different world than Aaron.
"They didn't hang out off the field. Sure, Tim tried to encourage him to live a good life, a religious life, just like he does with so many people.
"But after playing a huge role in convincing Aaron to come to Florida, Tebow lost any influence he had over Aaron, who quickly got into trouble."
Article continues below advertisement
Multiple reports - and sources to Radar - confirm it was well known that Hernandez smoked marijuana regularly at the University of Florida. He failed drug tests and was suspended for one game.
And just months after arriving at the university, Hernandez was questioned in the shooting of two men in a nightclub. He wasn't charged.
It was the death of his father, many feel, that started him on the road to trouble.
According to the Boston Globe, Hernandez admitted he began using drugs after the death of his father.
That was in 2006.
Later Hernandez tattooed on his left arm his father's favorite qutoe: "If it is to be, it is up to me."
Hernandez was a home-town hero in Bristol, Conn. but even his high school coach was concerned about him. In 2010 Hernandez fell in the NFL draft and it was an open secret that pro teams were wary of his off-field life.
Doug Pina, his high school coach, said at the time: "Personally, I've always had concerns. He's still finding himself. With the right people around him ... he'll do very well."
Tebow was one of the "right people" at Florida, but multiple sources confirmed they had virtually no contact off the field - except for team-related events - when they played together.
Now, wth Hernandez in a jail cell facing life in prison, Tebow is joining the New England Patriots, the team that cut all ties with Hernandez less than two hours after his arrest.