Teresa Giudice To Hubby Joe: 'If You Want To Cheat, Then Bye!'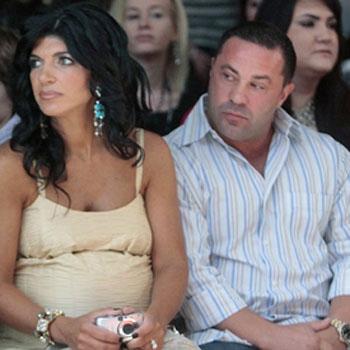 Over the past four seasons of Real Housewives of New Jersey, practically the only person Teresa Giudice has stayed loyal to is her husband, Joe, and she recently opened up about why she sticks with him despite all of the reports of his cheating ways.
"My thing is, listen, if he wants to be with another girl, bye!" Giudice told Andy Cohen on a special Watch What Happens Live: Jersey Tell-All episode that aired on Sunday.
Article continues below advertisement
"You know what I mean? There's no chain on his foot," she continued. "We're not made that way."
Never one to skirt around scandalous topics, Andy asked her about that infamous episode in Napa Valley last season, when Joe called her a "bitch" and "c**t" after she caught him on the phone with an unidentified person.
Though Teresa admitted his outburst made her "upset," she insisted that Joe "did feel bad" and the two are now happier than ever.
Her one-time rival, sister-in-law Melissa Gorga, did little to contradict her.
"To be honest with you, that's a line I'm not going to cross," Melissa said. "I'm not going to talk about marriage. I'll talk about a lot of things, but when it comes to that, I don't want to discuss that. That's between them. Marriage is a line I won't cross."
Other Housewives have had no problem discussing the troubles in Teresa and Joe's marriage, however.