Exclusive
Outrage: Jodi Arias Cashing In On Murder Trial By Selling 'Survivor' T-Shirts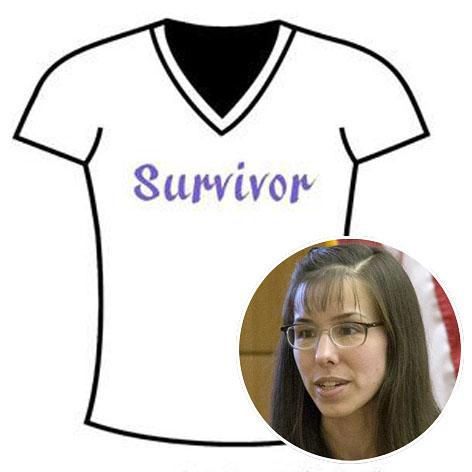 As a court of law decides her fate, murder defendant Jodi Arias is attempting to sway the court of public opinion, with the sale of t-shirts emblazoned with the anti-domestic violence message 'Survivor', RadarOnline.com has confirmed.
Not surprisingly, the $15 items have caused outrage among trial-followers, victims of abuse and supporters of the man she butchered to death, Travis Alexander.
"I can't believe she's able to do this," one commentator wrote on 'The State vs Jodi Arias' Facebook page. "She's making a mockery of Travis and the law as well as everything else she's using to her advantage."
Article continues below advertisement
The person ended the message, "Someone stick a needle in her, please."
Another critic blasted: "Her nerve never ends. No remorse except for herself.The domestic violence is a fantasy."
Coming in black or white with purple lettering, the shirts are "currently in production" with proceeds said to be going to the Long Beach Women's Shelter and Reach Beyond Domestic Violence.
Some money will also be used to help keep the 32-year-old's California-based family in Phoenix, Arizona, during the remainder of the lengthy trial.
"Please join me in the efforts to support other survivors of domestic violence," Jodi wrote on Twitter Sunday, via an account that is managed by a friend.
As RadarOnline.com previously reported, the amateur artist -- she's facing the death penalty if the jury comes back with a verdict of first degree murder -- has also been making money with the sale of her pencil drawings, including a creation that looks eerily like Travis' sister, Tanisha Sorenson.
The jury in the trial is currently deliberating.