Exclusive
Convicted Murderer Jodi Arias' Friend: 'This Ain't Over – She Doesn't Deserve The Death Penalty'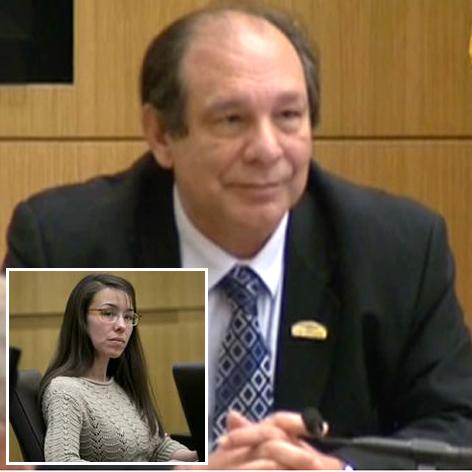 As the news sinks in that Jodi Arias was found guilty on Wednesday of first degree murder in the butchering death of Travis Alexander and now faces possible execution, RadarOnline.com has exclusive insight into the emotional reactions of those who knew both the convicted killer and her victim.
Crowds of Alexander's supporters gathered outside of the Maricopa County Courthouse chanting "Justice for Travis" as the verdict was read out, but a friend of Arias' wants to remind everyone that despite their celebrations there is still a huge decision to be made.
Article continues below advertisement
"It ain't over yet!" self-help guru and former Pre-Paid Legal colleague Gus Searcy told RadarOnline.com in an exclusive interview. "I always said we knew she did it, I just think that Travis was culpable so I don't think she should get the death penalty, and that phase is still to be decided.
"I wasn't expecting her to be acquitted but second degree murder would have been nicer," explained the friend, who testified for the defense during the early days of the marathon four month murder trial. "To me, to give her the death penalty they have to have 100 per cent agreement – if one person disagrees out of the 12 then it is life in prison."
As RadarOnline.com previously reported, during the penalty phase prosecutor Juan Martinez will seek the death penalty and if he is successful Arias will become the fourth woman on death row in Arizona. The state was second in the nation in executions in 2012 and Arias would die by lethal injection.
While he doesn't blame Alexander for the tragedy, Searcy does think "he helped create the environment in which for this to occur. I was alone in a motorhome with Jodi five days before this happened and nothing happened to me," he said. "And if I was with her five days from now, I wouldn't be worried either because I haven't done anything to a create an environment for this to happen."
Article continues below advertisement
"She was a nice woman living with a man with a son before this and they bought a house together," said Searcy, referring to a relationship Arias was in before she met Alexander. "There is no criminal record, there is no past violence – there is nothing.
"All of a sudden this all happened – why? Well we know why, not from just what I know happened but from the emails between Sky and Chris Hughes – because he was not being a good person to her. Because of that, something bad happened. Again, not an excuse to murder somebody but there is culpability," he claimed.
"If you play with a rattlesnake and then you get bit, then you were playing with a rattlesnake."
Although a unanimous verdict was revealed after 15 hours of deliberation and all 12 jurors found that Arias was guilty of the premeditated murder of Alexander, the jury was split when it came to felony murder. Five of the jurors voted for first-degree premeditated murder, while seven of them voted for both first-degree premeditated murder and felony murder.
Article continues below advertisement
"You know who should get the death penalty – the three guys in Ohio who had those girls locked up for 10 years," said Searcy. "That probably won't be on the table by law but I think that is worse."
"It is not like she went to a movie theater and shot a bunch of innocent people. That guy deserves the death penalty, no problem with that one. If she had blown up a bomb at the Boston Marathon, no problem with that either.
TWITTER SCREEN GRABS: Jodi Arias Tweets About Contemplating Suicide
"But this guy psychologically abused her, traumatized her, sexually abused her – we know what happened and have recordings of it going on there. We have emails back forth from his friends saying, 'You are being mean to her,'" he said.
"I witnessed it personally. I don't think that is death penalty and if she gets it then I will be disappointed."
The sentencing phase will begin Thursday at 1 p.m. and the same jury of eight men and four women will return to the Phoenix courtroom to decide if Arias gets death by lethal injection for the June 4, 2008 murder of her former boyfriend, who was stabbed 29 times, had his throat slit and was shot in his home.