Boston Marathon Suspect Made Bomb In Home He Shared With His Wife And Child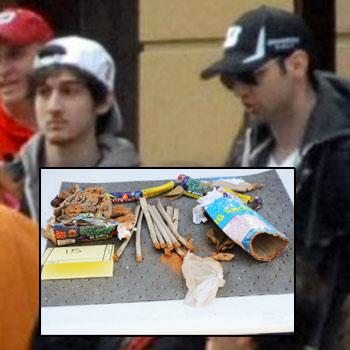 Explosive residue was found in the kitchen sink, on a table and in the bathtub of the home Boston Marathon bombing suspect Tamerlan Tsarnaev, shared with wife, Katherine Russell, and their three-year-old daughter.
The deadly ingredients of the "pressure cooker" bombs were discovered in the Cambridge, Massachusetts residence by federal investigators after fellow suspect, Dzhokhar Tsarnaev claimed that the devices were built in his older brother's home, reported CNN.com.
Article continues below advertisement
It's a significant development that raises many questions in the case, as Russell's lawyer continues to say that she is "cooperating" with federal authorities but few details of that cooperation have been released.
On Monday, FBI agents visited Russell's family home in Rhode Island – where she has been in hiding since her husband died in a shoot out with police four days after the attack – and left with several bags of evidence after it was revealed that female DNA was located on at least one of the bombs in the blast.
Sources close to the investigation stress however that there are many reasons why the DNA of someone other than the two bombing suspects could have been found on remnants of the exploded devices, such as a store clerk handling materials used in the bombs or a stray hair.
Investigators were also searching areas in and around Dartmouth, Massachusetts, on Friday following tips about loud explosions heard in the area over the last several months to see if they were tests conducted by the suspects, a source told CNN.
MORE ON:
Tamerlan Tsarnaev
Article continues below advertisement
Dzhokhar, 19, also made the disturbing revelation that the marathon massacre was a last-minute decision, and their initial target was Boston's famed 4th of July celebration that draws about 500,000 people and is televised nationally on CBS.
Two weeks after his death, Tamerlan's body was released by the medical examiner's office to a funeral home on Thursday and the mayor of Worcester confirmed that his funeral will be held in the city, but it is still unclear where he will be buried.
The family is planning an independent autopsy before burying the body in a Massachusetts cemetery, family spokeswoman Heda Saratova said.