Exclusive
Jodi Arias 'Needs To Be Put Down,' Declares Stepdaughter Of Last Woman Executed On Death Row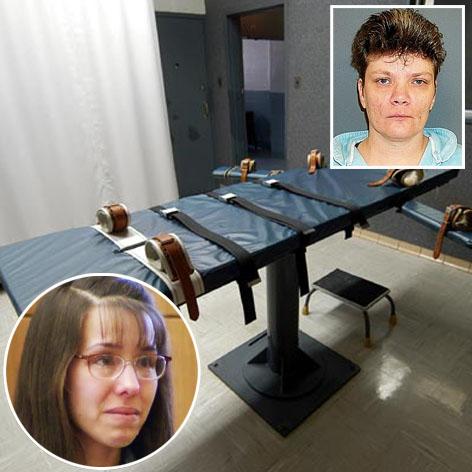 Jodi Arias deserves the death penalty and "needs to be put down," for butchering her ex-lover Travis Alexander, the stepdaughter of the last woman executed told RadarOnline.com in an exclusive interview.
"I think there are certain cases when people go to trial and there is reasonable doubt – you don't know whether or not if they did or didn't do it," Kathy Clifton of Danville, Virg. told Radar, explaining her thoughts on the Arias trial.
Article continues below advertisement
"But the cases where you know that person has done it and they have admitted it, then yes – they need to be put down."
After a jury found Arias guilty of first-degree murder on May 8, the same jury must now decide if she gets the death penalty and becomes the fourth woman on Arizona's death row.
"After what Jodi did, she deserves the death penalty. Why should we have to pay to take care of her the rest of her life?" Clifton, whose stepmother, Teresa Lewis, was given lethal injection at Virginia's Greensville Correctional Center in February 2010 for using sex and money to arrange for the murders of her husband and stepson in October 2002, said.
"If they don't start doing something, the murders are going to keep on happening. People think they can get away with it scot-free.
"I think the (death penalty) is preventative," revealed Clifton, who lost her father, Julian Clifton Lewis, and brother, Charles, at the hands of killers her step-mother had an affair with and then hired to carry out the double murder to profit from a $250,000 life insurance policy.
Article continues below advertisement
"If you don't do anything else, people think, 'I can do this and I'm going to spend the rest of my life and they're going to feed me, they're going to cloth me and I'm going to be safe.'"
When Lewis was executed following seven years on death row, Kathy says she felt relieved – and finally safe. "I was glad that she finally had to answer to the Lord for what she did. When she stood before God, he did final justice," she said, with CNN reporting that her stepmom's last words were, "I just want Kathy to know I love her. And I am very sorry."
The first post-conviction interview with 32-year-old Arias on Wednesday didn't show a hint of remorse or regret for her horrific actions, and Clifton revealed that Lewis was just as unapologetic for taking two lives until faced with her own mortality. "If Jodi does feel remorse, it will just be for herself and not what she actually did," she predicted.
When asked how she felt when her stepmom was finally put to death, she replied: "It gave me closure to the extent that I know my son doesn't have to look over his shoulder the rest of his life.
Article continues below advertisement
"She had already shown inclinations of trying to get rid of my son, because he is related to me. She didn't hate me, she just wanted money and I was the only one in the family who was strong enough to stand up to her," she explained, referring to the alcoholic who sacrificed her own family to get her hands on the policy Charles had taken about before being deployed as an US Army reservist in Iraq.
TWITTER SCREEN GRABS: Jodi Arias Tweets About Contemplating Suicide
Having spent four months diligently sitting in court throughout the mammoth trial, Travis' family were overwhelmed with joy when the guilty verdict was read, and Kathy has a heartfelt message for them as they face the next step in their ordeal.
"If I was able to speak to them I would say, 'You're not alone. There are a lot more of us out there than should be and I'm praying for you. Things never get better but you learn to live with it and go on,'" she said through Radar.
Article continues below advertisement
As for the eight men and four women who will decide if Arias lives or dies, she would like to plead with them to remember the victims of such cold-blooded murders.
"The victims are not spoken of enough. The people who committed the crime have more rights that the victim and that is not fair," she explained.
"They (Jodi and her defense lawyers) made Travis out to be a horrible person and he probably wasn't – he was probably just a human, he probably had his faults the same as my family did – they had their faults but they were my father and brother and I loved them," she said sadly. "When you go through something like this, the person who you have loved and lost is made out to be a villain, and that is not so."
As Kathy anxiously awaits Arias' ultimate fate along with the rest of America, the case will resume on Wednesday, May 10 at 10 a.m. PST/ 1 p.m. EST when the same 12 jurors will begin the process of deciding whether Arias lives or dies by lethal injection.
radar_embed service=5min.com src="http://pshared.5min.com/Scripts/PlayerSeed.js?sid=1126&width=570&height=351&playList=517774415&sequential=1&shuffle=0"