Bye Bye Becks! David Beckham Announces He's Retiring From Soccer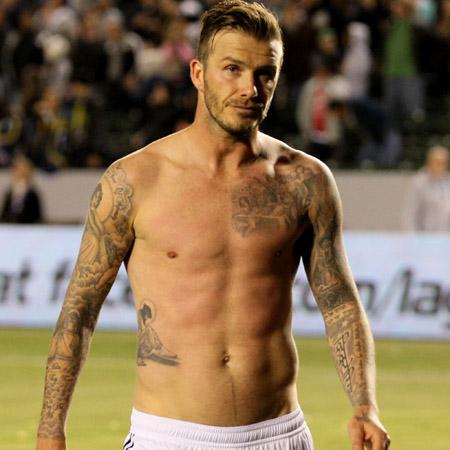 It is a sad day for soccer fans and a sad day for those who love to see David Beckham celebrate a win by taking his shirt off on the field because he announced that he is retiring from his beloved sport.
Becks, 38, known for his six pack abs, revealed the news Thursday after just a year playing with the French team Paris St. Germain.
"I'm thankful to PSG for giving me the opportunity to continue but I feel now is the right time to finish my career, playing at the highest level,"
Article continues below advertisement
The most famous soccer player in the world, and husband to Spice Girl Victoria Beckham, said that he achieved every dream he ever had for the sport.
"If you had told me as a young boy I would have played for and won trophies with my boyhood club Manchester United, proudly captained and played for my country over one hundred times and lined up for some of the biggest clubs in the world, I would have told you it was a fantasy. I'm fortunate to have realized those dreams."
With an astounding 127 goals combined for Manchester United, Real Madrid, LA Galaxy, AC Milan and PSG, Beckham recalled his favorite accomplishment.
"To this day, one of my proudest achievements is captaining my country,' Beckham added.
He and Victoria, along with their four children moved from Los Angeles to London in late 2012, and he has been playing and commuting for the Paris team.
"I want to thank all my teammates, the great managers that I had the pleasure of learning from," the H&M underwear model said.
"I also want to thank the fans who have all supported me and given me the strength to succeed.
"Nothing will ever completely replace playing the game I love, however I feel like I'm starting a new adventure and I'm genuinely excited about what lies ahead," he said.
"I'm fortunate to have been given many opportunities throughout my career and now I feel it's my time to give back."