Cleveland's House Of Horrors: 7 New Developments, Plus DNA Results Show Castro Is Father Of Berry's Daughter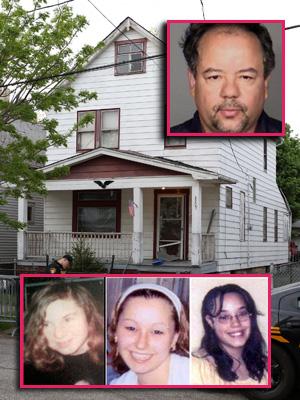 UPDATE: Ariel Castro is the father of Amanda Berry's daughter, a DNA test confirmed. In another development Friday, Michelle Knight was released from Metro Health Medical Center in the afternoon.
We've got all of Friday's latest developments in the rescue of Amanda Berry, Gina DeJesus, Michelle Knight and a child from a Cleveland House of Horrors, where police say they were held captive by suspect Ariel Castro since the early-2000s.
Article continues below advertisement
1. Prosecutor To Pursue Murder Charges Against Ariel Castro
After Castro was arraigned on rape and kidnapping charges in his first court appearance Thursday, Cuyahoga County Prosecutor Timothy J. McGinty said he'll also pursue charges of aggravated murder, attempted murder and assault linked to the numerous beatings on the women which resulted in miscarriages.
McGinty said he will charge the suspect for each day he imprisoned the women, and each rape incident they accused him of, adding, "This child kidnapper operated a torture chamber and private prison in the heart of our city."
Ohio Attorney General Mike DeWine said Friday that DNA has confirmed Castro as the father of Amanda Berry's daughter, adding the FBI is still checking the suspect's DNA to other unsolved crimes.
While Berry and DeJesus are home, Knight remained hospitalized in good condition at MetroHealth Medical Center on Friday, Cleveland's Fox8 reported.
2. Castro Claims He's A Sex Addict
Castro -- who has been meek and cooperative with investigators, so far -- has told authorities he considers himself a sex addict, police sources told Cleveland's ABC affiliate WEWS. Castro mentioned the sex addiction in a suicide note investigators recovered earlier this week.
Article continues below advertisement
The rape and kidnapping suspect remains in custody under 24-hour suicide watch from sheriff's deputies, sources said. He is in a cell alone and has not crossed paths with other inmates at the facility.
3. 'Hero' Charles Ramsey Doesn't Want Reward Money
Hailed as a hero, Charles Ramsey appeared on Nightline Thursday night, and he again stated he doesn't want a penny of reward money for his efforts in the rescue.
"All you have to do is make it out to Amanda Berry -- another reward, give that to Gina DeJesus," the viral video superstar -- whose auto-tune had nearly 7 million views in less than three days, told Nightline's Cynthia McFadden. "If I could do this all over again and come out with the same happy ending, keep the money."
The charismatic Ramsey, who recited his phone number in his viral 911 call, said he's been receiving calls from all around the world since the rescue.
Article continues below advertisement
"There are numbers in this phone that start off with 945, 65,0000-something, something, something, hyphen," he said. "So I'm just guessing that's Denmark. I ain't got no friends with no numbers with hyphens. I don't even have friends that could spell the word hyphen!"
|
|
4. Life Imitates Art?
In a plot twist reminiscent of Dustin Hoffman's 1992 flick Hero, Angel Cordero, another Seymour Avenue neighbor of Castro's has stepped forward saying HE was the one who deserves accolades for the rescue on Monday.
Cordero, through an interpreter, told WEWS-TV that he was actually the one who broke down the door to free Berry, and that Ramsey wasn't even present until the women had already escaped the House of Horrors, but rather a bandwagon jumper who got involved after his brave actions set Berry loose.
"I helped her and I was first," Cordero said. He later appeared on Piers Morgan, saying he heard loud noises, and went to see what was happening, where he had a run-in with Berry.
Article continues below advertisement
"She had told me that she had been kidnapped for 10 years," Cordero said. "So I kicked the door at the bottom ... and that's when Amanda ran out of the house."
Ramsey disputed Cordero's chain of events on Nightline -- referring to the man as "The Dominican" -- saying that while Cordero did cross the street first to investigate the situation, he ran away with his tail tucked between his legs when he'd got more than he bargained for.
"Keep in mind, The Dominican … runs back over there behind me," the McDonald's aficionado said. I was going, looking across the street, saying, 'She needs to get out of there.' He said, 'I'm not getting involved in here.'"
radar_embed service=5min.com src="http://pshared.5min.com/Scripts/PlayerSeed.js?sid=281&width=560&height=345&playList=517775418"
5. Missed Opportunity?
Fernando Colon, the stepfather of Castro's children, was questioned by the FBI in 2004 after DeJesus went missing. He said he told investigators Castro might be involved in the disappearance, but claims "nobody wanted to believe me about this guy.
Article continues below advertisement
"Maybe the FBI didn't feel there was enough evidence to focus on him," he told The Plain Dealer newspaper.
6. Ex's Family: Castro A 'Monster'
Family members of Castro's former common-law wife Grimilda Figueroa called him a "monster," citing a number of abusive incidents during his marriage to the woman, who died last year from an illness.
Figueroa's sister Elida Caraballo told the AP Castro repeatedly beat her, leading to injuries such as a broken nose and dislocated shoulder; pushed her down a staircase; locked her in their house; and once forced her into a cardboard box and shut it, demanding she stay there until he let her out.
Figueroa left him after a particularly brutal beating in 1996, her relatives said.
Castro's former daughter-in-law Monica Stephens, who was married to his son from 2004 until 2006, said the son told her stories of how he and his mother were routinely pummeled by Castro, who treated them like "hostages in their own house."
7. Castro Linked More Victims?
Authorities continue the search for another young girl who vanished in Castro's neighborhood six years ago, and hasn't been heard from since, though Cleveland Deputy Police Chief Ed Tomba said no evidence has surfaced yet linking the former school bus driver to the disappearance.
Ashley Summers, then 14, was last seen in 2007 near the House of Horrors, her aunt Debra Summers said, adding that the girl's mother has been in contact with the FBI since Monday's discovery. The aunt said her family is hoping for another miracle.
Watch the video on RadarOnline.com
Keep checking RadarOnline.com for the latest on this still breaking story.
Be sure to follow us on Facebook and tweet us @Radar_Online.