Unsightly Stains, Shredded Gowns & Unreturned Jewels! Celebrity Red Carpet Lending Nightmares Revealed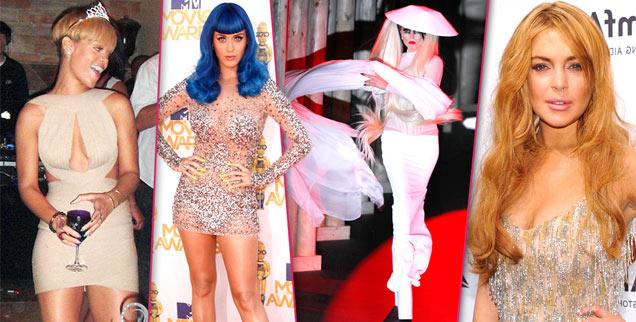 Just because they are rich, famous and used to wearing expensive designer clothes, it doesn't mean that celebrities bother to take care of them.
From gowns stained with bodily fluids to totally destroyed designer dresses, Hollywood stars are notorious for returning – or not returning – expensive clothes and jewels that they borrow from designers and publicists for red carpet events in less than acceptable form, and RadarOnline.com has some of the most notorious examples from a new expose in The New York Post in which they exposed the biggest celebrity red carpet nightmares in recent years.
Article continues below advertisement
Lady Gaga, who is famous for her outlandish fashion, reportedly returned a Thierry Mugler black dress that she wore for a music video shoot two years ago, weeks late with a suspicious stain on it.
"It looked like it had semen on it," a publicist who worked with the designer dished to the newspaper. "It was so disgusting. I couldn't even tell you. We never found out what it was, but we paid the $500 dry-cleaning bill."
Article continues below advertisement
"We all remember the Mariah minidress phase . . . less dress, more skin, too much Mariah," says Bloch. "Four or so years ago, it was really hard to borrow for her because she used to cut all the gowns into really short dresses," he says, dishing that Elie Saab even nixed her because he was scared she would destroy his dresses, which her rep denies.
"They would be like, 'We can't loan to her. She's going to cut the gown!' "
Rihanna may not chop up clothes like Lohan or Carey, but she does return them dirty according to a fashion publicist who worked with designer Herve Leroux, who lent Riahnna a gown for her 2010 birthday bash.
"It came back literally brown," says the PR. "I don't know what the hell she did with it."
Katy Perry's stylist, Johnny Wujek, reportedly lost a Zuhair Murad gown that the pop star wore to the 2010 MTV Movie Awards, which resulted in the designer not lending him any more of his fashions for a period of time.
Article continues below advertisement
"It was a couture gown worth tens of thousands of dollars, never to be seen again," a publicist who worked with the brand dished. "How can you lose a gown? She wore it. You come the next day to collect everything, and it's not there."
Label Collette Dinnigan took a chance loaning Lohan a dress, who claimed she couldn't find it when it was time for it to be returned.
"Apparently, she looked high and low for it and couldn't find it," says Marilyn Heston, president of MHA Media, a fashion PR firm.
"And then there's a New Year's Eve party in Miami, and she was photographed wearing the dress on the cover of a magazine. It was like, 'Aha! Caught.' We had living proof that the dress wasn't completely lost."
Luckily, the dress was eventually given back and there were "no hard feelings."
What do you think about the stars' outrageous antics when it comes to returning borrowed clothes? Sound off below.