Exclusive
Janice Dickinson Denies Jewelry Theft, 'If I Were To Steal, I Would Go To Harry Winston!'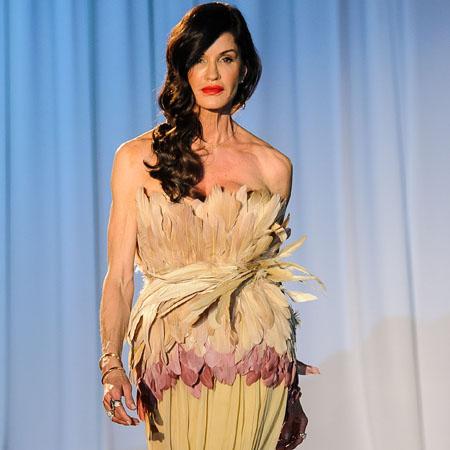 Reality star Janice Dickinson found herself in the middle of a real-life crime scandal when a jewelry designer accused her of stealing $20,000 of gems, but she exclusively tells RadarOnline.com the whole thing was just a huge misunderstanding.
"If I were to steal jewelry I would go to Harry Winston, I wouldn't mess around with cheap jewelry, and it was really cheap!" the self-proclaimed world's first supermodel told RadarOnline.com in an exclusive interview.
Article continues below advertisement
"It is way beneath me. I wear expensive, real jewelry. I don't know what that s**t is but I am not going to steal it."
The confusion occurred when Dickinson participated in a runway show benefit, The Reality of FASHION The Reality of AIDS, in New York City on Saturday, but after walking the catwalk she allegedly strutted out wearing the loaned sparklers from brand Effy, which infuriated the organizers.
"I left in a hurry and didn't even realize I had a couple of bangles and a couple of rings on still," the America's Next Top Model judge explained to RadarOnline.com.
"I didn't even think about it! As soon as the girl called to tell me I arranged to return them. I gave them to (publicist) Brad Taylor who then gave them to the designer at church the next morning."
Dickinson, 57, suspects that blowing the situation out of proportion was just a way for the jewelry company to get some free publicity, and while she believes she should take legal action, she isn't going to.
Article continues below advertisement
"I am not litigious but I am very upset with being accused of theft when it wasn't true. It is not just a question of the jewelry, the whole show was a mess," she explained.
"I got to NYC in a blizzard with my fiancé, I always ask for a companion to come with me because I am sober now and it keeps me on track. But the event refused to pay for him.
"He didn't mind having to buy the ticket because it was for AIDS, which is my favorite charity, but no one mentions the good things like that – just the bad," she complained.
As for her future with the show organizers Janice said, "I will never do anything with them again, it is not worth it. It is not a rosy path being publicly slammed."