How Celebs Are Slimming Down! The Diet Secrets Of Hollywood's Hottest Stars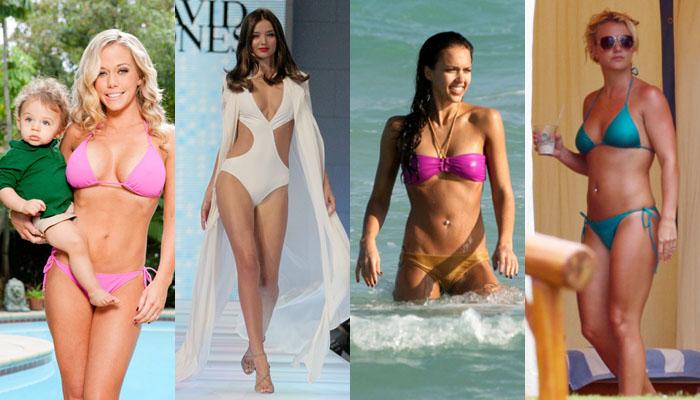 From juice cleanses to carb-cutting, celebrities are always trying out new ways to slim down!
Hollywood stars are constantly searching for new and efficient ways lose weight and look great, and People magazine has gathered together all of the details about the hottest celebrity diets of the moment!
Victoria Beckham has been Eating the Alkaline Way! The theory behind the diet, is to consume non-acidic, alkaline foods, which are easier on your system. The diet limits animal proteins and anything processed.
Article continues below advertisement
"Love this healthy cookbook," Posh tweeted in February, endorsing Natasha Corrett's Alkaline cookbook Honestly Healthy.
Gwyneth Paltrow works hard to keep her body looking banging, and the Iron Man 3 star got a little help from her Doctor Alejandro Junger who created the Clean Gut diet.
"My go-to doctor, Alejandro Junger understands health-literally from the insideout! Clean Gut is revelatory and rejuvenating," Paltrow gushed over the 28-day plan to rehabilitate your gut by eating shakes for breakfast, light meals and taking 15 supplements a day.
At 43, Jennifer Lopez is looking sexier than ever with the help of her nutritionist Haylie Pornroy who created The Fast Metabolism Diet. The theory behind the diet is to rotate foods to increase weight loss, for instance, eating two days of carbs and fruit followed by two days of proteins and veggies, and then all the food types plus healthy fats for the duration of the week.
It's not easy losing the baby weight, but Molly Sims, Hilary Duff and Drew Barrymore found two different diets to aid them in the process. While Molly dropped weight with the fiber and protein heavy Miracle Carb Diet and Hilary used The Body Reset Diet, which consists of only blended smoothies for the first five days, then eventually small snacks and solid foods, Drew is a fan of The Beauty Detox Foods to keep her gorgeous, which focuses on eating with specific beauty benefits.
Chaz Bono, Ashley Greene, Salma Hayek and Nicole Richie prefer to have their diets delivered to them! Chaz dropped a massive amount of weight with the help of Freshology, a twice-weekly service which provides low calorie fare, Ashley got in tip top shape with Sunfare's 30% lean protein, 40% healthy carbs and 30% "good" fats meals, Salma slimmed down with the help of the Cool Cleanse juice cleanse that she founded, while Nicole Richie prefers the Pressed Juicery Cleanse program of six daily juices a day along with a bottle of aloe vera water and a bottle of chlorophyll water.