Amy Winehouse's Toxic Marriage To Hubby: He Used Drugs And 'Emotional S&M' To Control Her & Sabotage Career, Claims New Book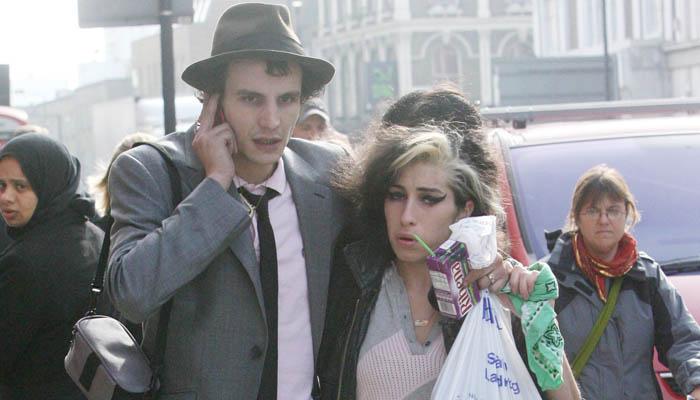 Amy Winehouse was controlled and manipulated by her husband, Blake Fielder-Civil, through drugs and "emotional S&M" claims a new book about the late singer.
In Amy Winehouse – The Untold Story, author Chloe Govan interviews a close friend of the late singer, who delves into the horrifyingly toxic relationship between Winehouse and her drug-addicted husband.
"Music was the other man in Amy's relationship – something she loved as much as she loved him – and it drove Blake insane with jealously," the friend explains about the root of Blake's resentment.
Article continues below advertisement
"He was afraid that one day Amy would see him as a good for nothing guy and chuck him out of her life. If she was off her head on drugs, there was less chance of that happening, so some might say he was trying to sabotage her career."
The source maintains that Blake, who was a drug dealer at one point in his life, controlled her with drugs.
"To begin with, he was also Amy's supplier. He could decide if he was going to give her drugs and he liked that because it gave him a type of control in their relationship that he'd always been lacking," the pal said.
"He was constantly pushing Amy to the limit and testing her love because he felt powerless in their relationship. She was the one with the money and the adulation and she could call things off at any time, so he wanted to be sure she'd stay."
However, the worse Blake was to Amy, the more they wanted each other.
"It was very manipulative. The more Blake was cruel and unkind to Amy, the more she felt she needed him and vice versa," the source explained. "They got off playing the games. It was emotional S&M."
Article continues below advertisement
The pair would often threaten to leave each other and "pretend" to break up as part of their manipulation tactics, but Amy took it a little too far when she threatened suicide.
"Amy soon found a way to manipulate him right back – she threatened suicide if he left. If the stress got too much, they'd self-harm to punish themselves or get attention and a shock reaction from the other one," said the source in the book.
"All this was so unhealthy, but Amy was addicted and couldn't let him go, whatever he did to her. She was a fool for love."
To read more on Amy and Blake's toxic relationship, pick up a copy of Amy Winehouse – The Untold Story, by Chloe Govan.
If you, or anyone you know, is struggling with thoughts of suicide, please immediately seek help — you can speak with a skilled, trained counselor at a national Suicide Prevention Lifeline crisis center in your area, anytime 24/7 — call 1-800-273-TALK (8255)