Exclusive
'She Was Foaming At The Mouth': Amy Winehouse Childhood Overdose And Suicide Attempts Revealed In New Book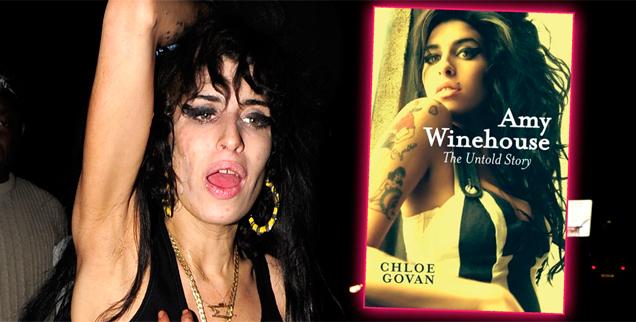 A tormented Amy Winehouse began "slashing her arms and wrists with compasses, razor blade and shards of glass" within months of turning 10 years of age, according to a new, tell-all book about the singer's troubled life.
In Amy Winehouse - The Untold Story, author Chloe Govan detailed how the five-time Grammy winner tried to kill herself after her dad, Mitch Winehouse, left her mother Janis for another woman when she was aged nine.
Article continues below advertisement
"Within just months of reaching double figures, Amy's anxiety had reached fever pitch," Govan writes. "She's already been slashing her arms and wrists with compasses, razor blade and shards of glass — but the worse was yet to come."
An anonymous Winhouse friend told the biographer: "Amy was such a smiley, happy girl on the surface — maybe she was a good actress as well as a good singer — so it came as a surprise. I only knew how bad things had become when she overdosed.
"That day, I found Amy clutching her stomach in agony. She started foaming at the mouth and her eyes were rollings. It was easily the most terrifying thing I'd ever seen. She's overdosed on pills because she didn't want to live. She told me she'd wanted to go for a long sleep.
"I stayed with her until it worse off because she begged me not to tell anyone. Plenty of people would say I was a bad friend for not raining the alarm but I was truly scared."' Lamented the pal, "When I asked her what had made her do it, she said it was nothing and she'd just been strupid. She swore blind it was the last time."
Article continues below advertisement
The Back To Black singer was found dead at her apartment in London in June 2011. She was 27.
According to Govan, Winehouse's troubles began at a very early age. While she sometimes spent weekend giving her beloved grandmother pedicures, the book revealed "there was another side to her — perhaps borne out of childhood trauma — that she struggled to control."
"Amy had some gorgeous childhood friends that she couldn't quite complete with," the same friend, who did not want to be named, said.
"She blossomed into a real beauty in her late teens, but earlier on she hadn't really grown into her looks. She was seen as a bit of an ugly ducking and she felt awkward around some of the others. It didn't help that she never cared for tidiness, so by the end of the day she would look like a scarecrow. She was still a cute child, but she told me on more than occasion that she felt ugly."
Notes the author: "Feeling increasingly alienated from the preteen pageant queens and pink-adorned princesses clutching Barbie dolls — on Amy's part, she'd rather have been mutilating one than playing with it — she fell into depression."
Article continues below advertisement
It had previously been thought that Winehouse's drug problem hadn't began until she met her future husband, Blake Fielder-Civil, however Govan traced it back to her parent's split.
"By tradition, most Jewish families are very close-knit and a value is put on seeming respectable. Divorce is considered shameful, so when Amy went through a lot of pain at her parents' separation," the friend said.
"She might have put on a front like she didn't care, but to her, seeing her father leave her for another woman was the ultimate abandonment.
The friend concluded: "As Amy grew up, things didn't get much better and actually the divide between her and these types of good Jewish families got even bigger. By ten she'd had her first spliff and, in some people's eyes, was on a bit of a road to ruin."
If you, or anyone you know, is struggling with thoughts of suicide, please immediately seek help — you can speak with a skilled, trained counselor at a national Suicide Prevention Lifeline crisis center in your area, anytime 24/7 — call 1-800-273-TALK (8255)