Exclusive
Amanda Bynes Parents Saving Her Bizarre Twitter Rants, Would Use As Evidence In Potential Case To Get Legal Control Over Her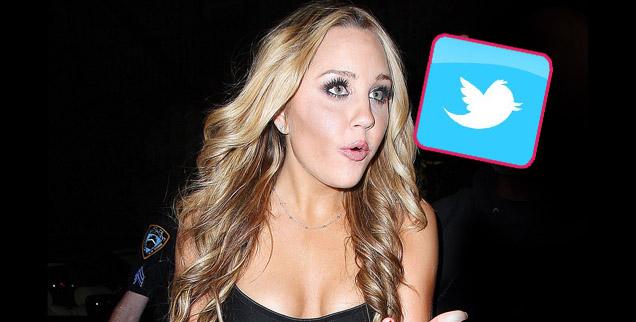 Amanda Bynes' parents, Rick & Lynn, are saving their troubled daughter's bizarre Twitter rants as potential evidence of her deteriorating mental health, should they decide to seek a conservatorship of the actress, RadarOnline.com is exclusively reporting.
Bynes' parents, "have been saving all of Amanda's Twitter rants. Every single Tweet she has ever posted has been carefully archived should they formally decide to get a conservatorship of Amanda. Her social media activity deeply saddens her family," a source told RadarOnline.com exclusively.
Article continues below advertisement
Bynes' tweets are "disturbing," to her parents, the source told Radar. Those tweets include the actress accusing the NYPD of slapping her vagina (after Bynes' latest arrest last week),l ashing out at Rihanna by saying that the singer wasn't pretty enough and that's why Chris Brown beat her, revealing she was going to get a new nose job and become a singer/rapper, plus much more.
As previously reported, the 27-year-old's parents recently consulted with several lawyers in hopes of getting a conservatorship for their troubled daughter, but were told they'd be unsuccessful because the actress didn't meet the strict criteria.
"Rick & Lynn have met with several lawyers that handle conservatorships in the past month, because they want to get a conservatorship of their daughter," a source previously told us. "They have been advised that even as disturbing as Amanda's behavior is, it's very unlikely that a judge would sign off on a temporary conservatorship.
"Conservatorships are very hard to get, and being mentally ill and addicted to drugs isn't enough. Amanda has never been to rehab or ever agreed to see a mental health professional. Her parents are absolutely powerless to do anything at this point."
The insider told RadarOnline.com that when Amanda's parents previously confronted her with their concerns, "She bolted from Los Angeles and moved to New York," leaving their relationship extremely strained.
Bynes' escalating disturbing behavior has been fueled by drugs with the former star smoking a large amount of pot, but according to one source, "It makes her more paranoid instead of mellowing her out."