Amanda Bynes 'Fake' Photo Scandal: Actress' Own Friend, Tabloid BOTH Insist Drug Den Pix Are Real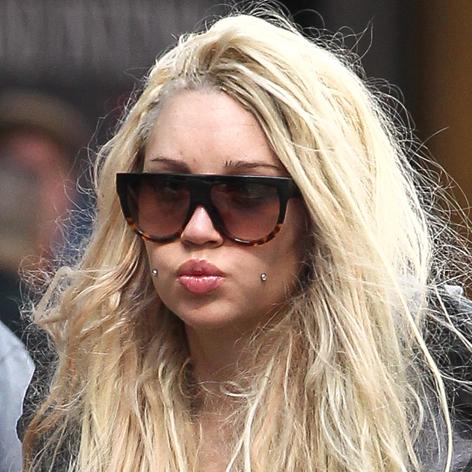 Disturbing photos of Amanda Bynes and her living conditions, including alleged drug use, were featured in a tabloid magazine this week and although the former Nickelodeon star immediately went on the defense tweeting Wednesday night that the photos were "fake" and "altered," RadarOnline.com has exclusively learned the photos are indeed of Amanda's New York apartment.
"That's not my bed! Those aren't my toes! My toes are pedicured!" Amanda wrote about the photo spread in In Touch, followed by a threat to take legal action against the magazine.
Article continues below advertisement
"I have to sue because that's not my apartment, those aren't my clothes! They morphed photos of my face onto someone's body to ruin my life!"
But a source close to Amanda, 27, says there will be no lawsuit because the pictures are absolutely of Amanda and her apartment.
"Amanda has no grounds whatsoever to sue the magazine because that is her in the photos and it's definitely inside her apartment," the insider exclusively told Radar.
"I've been in her apartment. That's her bed and that's her bathroom, and that's Amanda."
According to the source, Amanda is in denial over the photos because she's embarrassed by them…and may not remember them being taken.
"Amanda lives by 'deny, deny, deny,' so that's what she's doing. But she knows that's her apartment and that's her in the photos. She's just embarrassed," the insider revealed.
"And she was obviously partying that night and probably doesn't even remember the pictures being taken in the first place."
Since Amanda attacked the magazine on Wednesday night, they have fought back releasing this statement:
"The photos of Amanda Bynes inside this week's issue of In Touch speak for themselves. We at In Touch have done our due diligence and research on the photos and the article that accompanies them.
"In Touch has not altered or photoshopped these photos in any way. Additionally, the photographer has assured In Touch that these photos of Amanda were not altered or photoshopped in any way prior to the magazine obtaining them and they are, in fact, of Amanda Bynes taken at Amanda's apartment in New York City. All of Amanda's claims pertaining to the photos in this week's In Touch are false."