Inside Amanda Bynes' Horrifying Life – She's Doing Drugs, Her Feet Are Bruised & Cut And Her Windows Are Spray Painted Black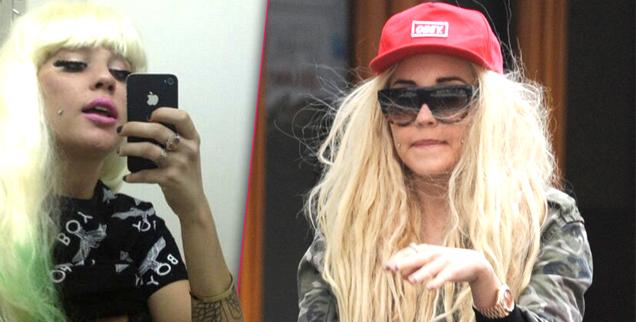 Amanda Bynes' downward spiral is reaching a new low with shocking claims that she is doing drugs in her filthy apartment and that she is covered with bruises and cuts on her feet.
The Nickelodeon star invited two photographers into her New York City apartment for a party recently and they revealed the shocking disorder and disarray in her home, including the drugs they say she did while they were there.
Article continues below advertisement
Photographer Giovanni Arnold told In Touch magazine about his wild time at Amanda's home and he and another photographer who were there claim that she had plenty of marijuana in her apartment and even took pictures of her smoking a joint.
"She probably gets so high that sometimes she won't even leave her house," Giovanni said.
"Weed was everywhere. On the bed, all over the floor."
Giovanni even alleged that Amanda did cocaine while he was at her pad, but she denied that to the magazine, saying: "They're the ones into drugs, so they bring drugs, but I don't do them."
He said she was acting erratic while they were there.
"One minute she's cool and down-to-earth. The next, she's totally di­fferent — indecisive, and she can't hold a conversation," Giovanni said.
"Mentally, she's all over the place."
Amanda's physical appearance was frightening too, according to the report.
Her feet were "full of cuts and bruises," and she was posing seductively on the mattress on the floor showing off her bra.
Article continues below advertisement
The apartment's conditions are shocking too with a few blinds covering her windows but the rest of the windows spray-painted black.
"It's almost like she couldn't bother to get more blinds," Giovanni said.
"Her living room is basically empty," the second photographer said describing the squalor she lives in.
"She has two big purple chairs and a little dining room table, that's it." Her kitchen is also apparently filled with take-out containers.
Amanda's bizarre behavior has many questioning her mental status, but she continues to deny that she is struggling with any issues.
"The only ones lying about me having a mental illness are people I don't talk to," Amanda told the magazine.
"I don't drink. I'm allergic to alcohol. I don't smoke pot. I smoke tobacco."