Amanda Bynes Claims Disturbing Photos Are Fake & Altered, Threatens To Sue!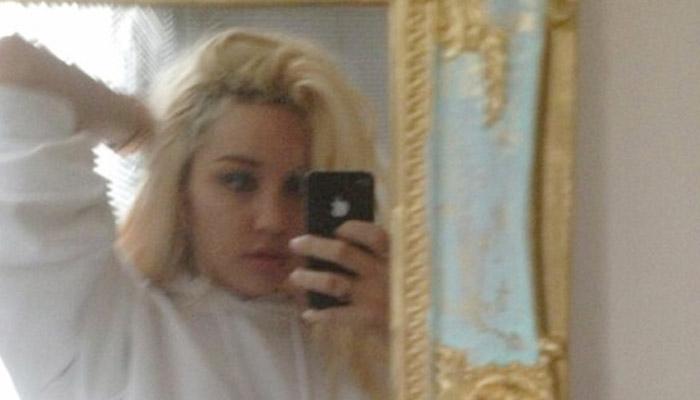 Two photographers claimed to party with Amanda Bynes in her New York City apartment and released disturbing pictures of the troubled starlet's living conditions, including her bruised and cut up feet, a bed with no sheets and snaps of her smoking marijuana — but Amanda now claims the photos are fake!
"That's not my bed! Those aren't my toes! My toes are pedicured!" Amanda tweeted on Wednesday night, regarding the exclusive layout in this week's issue of In Touch magazine.
Article continues below advertisement
"I just did an exclusive interview with intouch last week, now they bought fake altered photos by obviously that ugly black man in the photo or someone who knows him!"
The "black man" Amanda is referring to is a photographer named Giovanni Arnold — the one who did the interview with the tabloid and shared the photos.
"I have to sue because that's not my apartment, those aren't my clothes! They morphed photos of my face onto someone's body to ruin my life!" Amanda claims.
"I have to make a big deal of this and sue because that's not me! I care about my appearance so I have to defend myself! I look so much prettier now that I had surgery that I only want new post surgery photos of me on the cover of tabloids and real magazines that I don't need to sue!"
However, Giovanni told the tabloid that Amanda did cocaine while he was at her pad, but she denied it in her interview saying, "They're the ones into drugs, so they bring drugs, but I don't do them."
"One minute she's cool and down-to-earth. The next, she's totally di­fferent — indecisive, and she can't hold a conversation," Giovanni said. "Mentally, she's all over the place."
But Amanda insists the entire spread is doctored saying, "The photos in this issue are fake and mocked up!"
What do you think? Sound off below…