Exclusive
Inside The 48 Hours Before Amanda Bynes' Arrest -- Drugs, Paranoia & Head Shaving!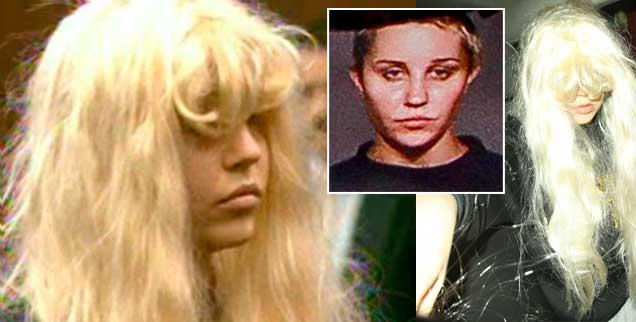 Amanda Bynes was on a troubling downward spiral in the 48 hours leading up to her arrest on Thursday night and RadarOnline.com has exclusive details about the drugs she was taking, the paranoia that ensued and why she shaved her head.
After authorities said they initially responded to Amanda's apartment because of a report of a disorderly person, it was revealed that a caller told police the former Nickelodeon star was rolling a marijuana joint and smoking it, in the lobby of The Biltmore on W. 47th Street.
Article continues below advertisement
When officers arrived and confronted Amanda she threw a bong out of her 36th floor window — which she claimed Friday morning in court was a vase — but sources tell RadarOnline.com that was the beginning of the end for Amanda.
"In the last couple days leading up to Amanda's arrest she was pretty out of control. At this point everyone knows she smokes marijuana, but it's the combination of that weed with Ecstasy, Percocet and Roxicontin that is really making her crazy," a source close the 27-year-old told RadarOnline.com.
"And Amanda doesn't just do a little bit of these drugs, she does a lot and it makes her delusional and erratic, which is exactly what happened before she was arrested."
According to the source, Amanda has been popping pills nearly 24/7 — taking an alarming number of pills at one time — leaving her dazed and confused.
"Amanda is completely pill'd out and mixes too many different pills with Molly slang term for Ecstasy, which brings the high to a whole different level," the source said.
Article continues below advertisement
"Amanda is literally never sober. Being on all these pills has become the usual to her so she finds her behavior normal, but her reality is completely altered. When she's high, or even coming down from high she becomes extremely paranoid."
Circa Britney Spears 2007, Amanda fully shaved her head sometime in the last 48 hours because she was in a dark and paranoid space, a source said.
As RadarOnline.com exclusively reported, Amanda's parents don't think drugs are the only thing causing their daughter's bizarre behavior.
"Amanda has been clearly using drugs, yes, including marijuana, but that is just the symptom," a family insider told RadarOnline.com.
"The fact is Amanda suffers from severe mental health issues that she refuses to accept. Rick and Lynn want her to seek in-patient treatment at a psychiatric hospital so she can be properly treated."
And the mental health issues started in her teens, the source added.
"She even thought there were tracking devices in smoke detectors in her family home and would place sheets over them," the insider said of early signs Amanda was exhibiting.
"Amanda also hears voices. It's so sad for her family to watch her unravel like this."