Exclusive
Jessica Simspon's Battling Parents Work Out Agreement To Go To Her Baby Shower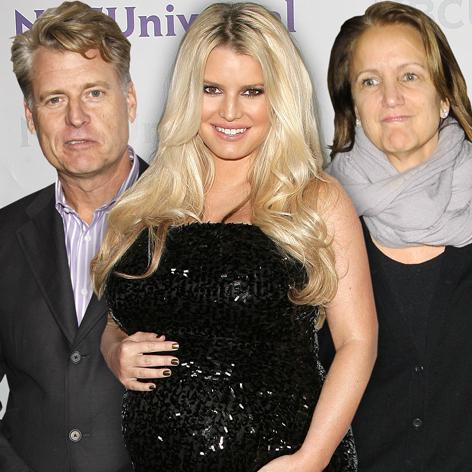 Jessica Simpson has found a solution to her baby shower dilemma.
As RadarOnline.com previously reported, the 32-year-old singer-turned-fashion-designer wants to invite her mom Tina and dad Joe to the party, but her parents don't want to be in the same room together.
However, RadarOnline.com has exclusively learned that Joe, 55, will arrive later at the shower giving Tina, 53, enough time to leave before he comes!
Article continues below advertisement
"Joe and Tina are going to tag team the wedding. It will be a one in, one out situation," a source close to the Simpson family tells Radar.
"Joe has agreed to come a little later so Tina can slip out before he gets there to avoid any drama on Jessica's big day.
"They both were desperate to come and support their daughter, but it's been a little bit difficult with everything that's been going on between the pair.
"But Jessica is delighted that an amicable agreement has been reached and they will both be in attendance.
"Now, Jessica can't wait to celebrate and just wants the day to be a big success," the source says.
As RadarOnline.com previously reported , Jessica's baby shower plans had gone awry when her parents said they didn't want to be in the same room together. It left Jessica in an uncomfortable position almost forcing her to choose between the two, or not invite either.
And despite her differences with Joe, Jessica still invited him to the baby shower because she wanted him to be part of the celebration.
"Jessica naturally wants Tina there, who she has grown closer to, since supporting her through the messy divorce."
Now she's found a way to settle the war — at least for a day.