Octo-Mom Evicted Over $2,590 Rent -- See The Notice!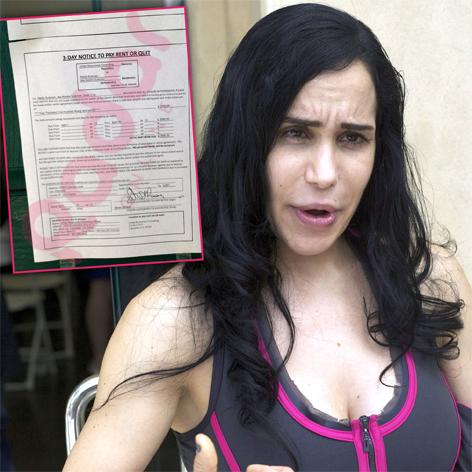 When Nadya "Octo-Mom" Suleman was presented with an eviction notice for not paying April's rent, she left behind a horrendous mess of filth and garbage and only RadarOnline.com has exclusively obtained the 3-day notice she was given.
Presented on April 15, Urban Resources Consulting — acting on behalf of Nadya's landlord — posted an eviction notice on her door stating that she was behind in April's rent to the tune of $2,590.
Article continues below advertisement
Here is Octo-Mom's eviction notice:
Knowing she couldn't afford the payment, Nadya received the eviction notice, packed up the Palmdale, Calif. home and fled!
"Octo-Mom had not paid her rent for the month of April as of last Wednesday," a source close to the landlord confirmed to RadarOnline.com.
"Then, in the middle of the night, she moved her furniture and the kids out of the home, leaving the house in filth and smelling like urine. The landlord was disgusted. There were beer bottles in the garage and trash littered all throughout the house."
As RadarOnline.com reported nearly a year ago to the day, Nadya was already under public scrutiny for the living conditions in which her children were living, leading to an investigation by Orange County's Children & Family Services after her hairstylist blew the whistle on the squalor in their home.
April's an unlucky month for Nadya, who had the La Habra Police Department and Social Services of Orange County pay her a visit in 2009 to investigate claims of child neglect.