'Terminator' Star Nick Stahl Back on Drugs, Tried To Score Crystal Meth, Says Eyewitness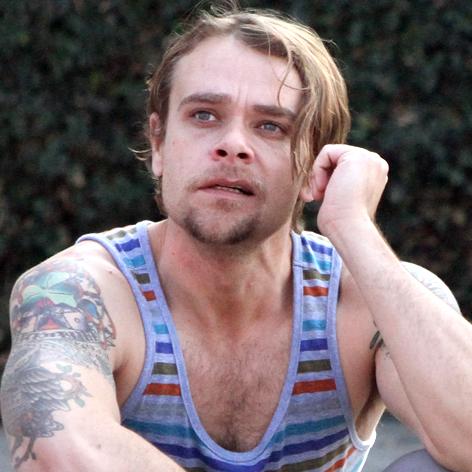 Troubled Terminator 3: Rise of the Machines star Nick Stahl was spotted in Hollywood trying to score drugs, RadarOnline.com has learned.
On March 25, the 33-year-old - also known for his roles in Sin City, House of Lies and Carnivàle – was outside a mental health clinic in Hollywood when he admitted that he was still smoking methamphetamine and was asking where he could purchase the highly addictive drug commonly known as crystal meth.
Article continues below advertisement
"It was around 12 noon in broad daylight when Nick and I started up a conversation about drug use," a source who is now clean and sober, but wants to remain anonymous, told RadarOnline.com exclusively.
"I was leaving the clinic and I recognized Nick right away so I said hello. He was wearing jeans, a red shirt and a green jacket and he looked real bad, like he was up all night – blood shot eyes and all.
"He said he was waiting outside the clinic since 7 a.m. and then he said he wanted to get high.
"I asked him if he meant weed – marijuana – and he said, 'No, I don't smoke pot – I smoke crystal. Do you know where I can get some?' I was floored – I knew Nick was having issues and struggling to get clean, but I was still pretty shocked that he asked a perfect stranger where he could score some dope."
Stahl made headlines in May of last year when he disappeared for four days prompting his wife, who feared he was dead from an overdose, to file a missing persons report.
Article continues below advertisement
He finally turned up and then seven months later he was arrested for allegedly committing a lewd act inside an adult porn theater in L.A.
The prosecutor ultimately dropped the charges, citing a "lack of evidence."
Stahl married actress Rose Murphy in 2009, but separated last year. The couple has had ongoing custody issues over their daughter Marlo, with Rose going as far as refusing Nick visitation without proof of a negative drug test.
A week after our source spoke to Nick outside the clinic the actor was photographed wearing dark glasses while shopping with his estranged with and daughter at The Grove in West Hollywood.
Stahl, who's been in and out of rehab and supposedly attending Alcoholics Anonymous meetings, is definitely leading a double life, says the source.
"I just hope that with me coming forward someone will talk some sense into Nick," adds the source. "He's not fooling anyone – Nick's playing with fire and desperately needs to get back into rehab."