'They Were Calling Me Anorexic,' Teen Became Model After Being Bullied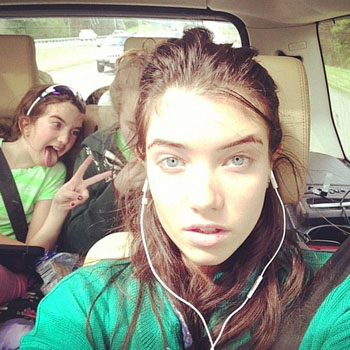 Indiana teen-turned-supermodel Grace Hartzel's story is like a modern day fairytale.
The 17-year-old poser, who has modeled for the likes of Chanel and Marc Jacobs and is quickly establishing herself as a top model in the fashion industry, reveals to The Indy Star her painful struggle as an awkward looking child and how being a "tall, skinny weird girl," in her youth led her to a successful career on the catwalk – and RadarOnline.com has the details.
Article continues below advertisement
"It's like my No. 1 dream and I'm doing it," Grace said about her glamorous career as a model.
Growing up in Chicago, Illinois, the family reveals that she was treated differently, and not in a good way, because of her looks.
"I felt she was being excluded from some things because of her height," Kimberly Hartel, her mother, explains about why she wanted her daughter to model. "I was trying to give her something that would help build her up. This is something you can do only if you are tall."
"I've always been the tall, skinny weird girl," Grace said. "People are mean. . . . I remember going on spring break my freshman year (to Siesta Key, Fla.) and there were girls from somewhere in Indiana. They were calling me anorexic. It's been happening my entire life."
Her mother attempted to get her career going as a model, but it didn't exactly take off until they moved to Zionsville, Indiana, where fate interjected.
Article continues below advertisement
Approached in a St. Louis Cheesecake Factory by the same women who discovered Ashton Kutcher, Mary Clarke and her husband Jeff, her career immediately took off when the Mother Model Management team took her to New York City.
Despite her instant success, Grace's mother admits that she faces backlash and judgment from other parents.
"They won't come right out and say they couldn't let their daughter do that. But they will to where you know they are (thinking) 'Are you crazy? Your daughter is over in London and she is 17,'" she said. "I kind of get a little defensive because you want to feel like you are a good parent. So it's a little hard."
In addition to her travel schedule, her mom also reveals that people judge her parenting because of her daughter's super skinny body, but she insists that she gets her physique not through starvation but because of her husband's genes. She claims her daughter eats lots of fruits and vegetables mixed with less of her favorite junk food, like double-stuffed Oreos.
Though Grace is loving every minute of her success as a top model, she does admit that she misses being a normal high school girl.
"I never thought . . . that I would miss being in high school but, I mean, you do a little," Grace said. "I miss the day-to-day routine. But if I ever went back I would for sure get sick of it. I like traveling to these amazing places."
Would you let your teenage daughter become a model? Sound off below.