NBA Star Magic Johnson's Openly Gay Son Thanks His Dad For Supporting His Coming Out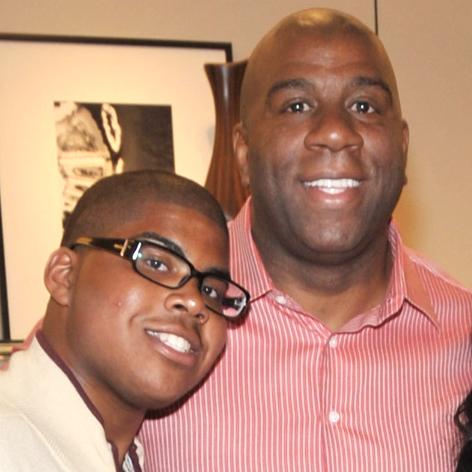 Growing up in the spotlight as the child of a huge sports hero is challenging enough without any extra stress, but Magic Johnson's openly gay son is grateful to his famous father for helping him go public with his sexuality.
"In the midst of all this media attention I would like to say that I am truly blessed to have parents that love and support me," Earvin Johnson III, one of the former NBA star's three children with wife Cookie, tweeted on Wednesday.
Article continues below advertisement
EJ, a 20-year-old student at New York University, was first spotted hand-in-hand with his unnamed boyfriend on L.A.'s Sunset Strip on Monday, however, as the Huffington Post reports, there is nothing to suggest that he was not open about his sexuality with his friends and family prior to the sighting.
The brave move - in light of what can sadly still be the very macho and homophobic world of sports - follows in his father's footsteps, whose announcement in 1991 that he was HIV positive sparked a slew of rumors about his own sexuality.
Instead of recoiling from the spotlight and the speculation, the former Los Angeles Lakers player used his celebrity to spread awareness and tolerance and in 2008, Magic opposed California's Proposition 8, calling it "unfair and wrong," and expressed his support for same-sex marriage in his home state.
Homophobia in basketball hit the headlines once again this week when video footage of a horrific rant filled with gay slurs by Rutgers basketball head coach Mike Rice was aired on ESPN's Outside The Lines.
"Across the sports world, giant steps are being taken to ensure that LGBT fans and athletes feel safe and welcome," GLAAD's Aaron McQuade told RadarOnline.com as he expressed his approval over the esteemed New Jersey college's firing of the abusive coach.