Magic Johnson Continues The Fight - 20 Years After Historic HIV Announcement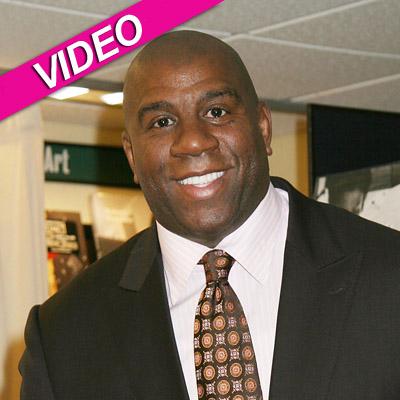 Twenty years to the day of his historic announcement he was retiring from basketball after testing positive for the HIV virus, Earvin "Magic" Johnson will announce new initiatives Monday for his foundation, which aims to educate the community on HIV/AIDS prevention.
The 12-time NBA All-Star, now 52, shocked the world during a news conference at the then-Fabulous Forum in Los Angeles November 7, 1991, announcing his abrupt retirement from a Hall of Fame career after testing positive for the HIV virus.
Article continues below advertisement
"Because of the HIV virus that I have obtained," Johnson said, "I will have to retire from the Lakers today ... I just wanna make clear I do not have the AIDS disease, but the HIV virus ... this is not like my life is over, because it's not. I'm going to live on.
"Everything is still the same. I can work out. ... I'll just have to take medication and go on from there."
Johnson's former teammate on the championship Laker teams, A.C. Green, said he's not surprised his friend is in solid health two decades after the landmark announcement.
"Magic said he was going to fight this, find a way to fight this and beat this and he has," Green told the OC Register. "He has had a history of overcoming odds, which is why I didn't think it (HIV) was fatal. His willpower is unparalleled."