Farrah Abraham Insists She's Not A Porn Star, Calls Sex Tape Costar A 'Prop'!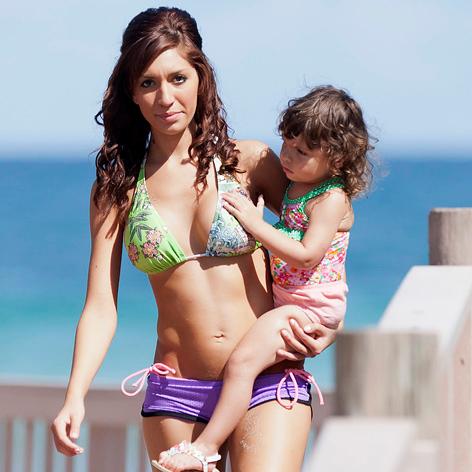 X-Rated Teen Mom star Farrah Abraham insisted to Dr. Phil that she made a sex tape -- not a "porn video" -- to celebrate her body and show her "feminine side."
"I did not make a porn video," the single mom told the television doctor, in an interview that aired Friday.
But the 21-year-old admitted she hired a company to shoot the XXX tape, who in turn hired the male participant, well-known male porn star James Deen.
Article continues below advertisement
According to Farrah though, James was just a prop!
"I made my own personal video," Farrah claimed, in an often emotional interview in which she confessed to Dr. Phil, at one point, "I'm sorry I'm here."
"My personal video does not show any other male's face," she added.
"He is just like the prop in the background. It's more about me. I'm celebrating my body and I'm showing my feminine side.
"This is something that never should have been talked about publicly, because it was something that I personally wanted when I'm older.
"I want those sexy photos of me of my best year."
And that's where the controversy gets hot: As RadarOnline.com previously reported, James, in multiple interviews, claimed Farrah and others connected to her concocted a scheme to have a the sex tape appear "leaked"!
He said he refused to participate in the deception, that she signed a model release and was paid for the tape.
Said Farrah: "I am not shopping the tape. If I'm going to release something because somebody's already seen it, I really need to take into consideration my future, and yes, there is a money amount to that.
Article continues below advertisement
"I'm not going to just let something be out there for free that should have never been out there."
"I am not a porn star," she maintains. "I will never want to date a porn star. I don't want to have anything to do with it."
At one point, Dr. Phil probed Farrah whether she worried that her four-year-old daughter, Sophia, would see the tape.
"I'm not worried about my daughter seeing this," Farrah responded.
"If she ever does bring it up, talks or asks questions or any of those things, I'm open. I'm honest and we'll deal with that."
When asked if she genuinely believed the tape would remain a secret, Farrah said: "I really did, because I was really quiet."
"Do you think people believe you?" Dr. Phil asked.
To which Farrah responded, "I don't care what people believe."
She also took aim at her costar -- the pair has been trading barbs with for weeks, including talking down his, well, manhood.
"Why should you speak about a woman's private business and not even consult with her first or wonder what this is going to do to her life?" Farrah questioned.