It's Getting Really Strange! Amanda Bynes Explains Hair Problems, Says She Had To Shave Her Head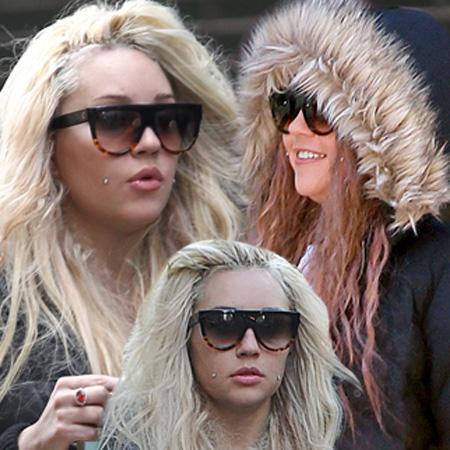 Amanda Bynes has been incredibly unhappy about the criticism regarding her hair lately, and now she's dropped the bombshell news that she had to shave it because of damage!
Eerily reminiscent of Britney Spears' meltdown when she shaved her head in a hair salon in 2007, Amanda has been on a rampage recently about her long tresses.
"I had to shave my head because of hair damage from someone @ John Barrett so I'm not loving my paparazzi pics for a few years!" Amanda Tweeted.
Article continues below advertisement
As RadarOnline.com previously reported, Amanda's visit to the hair salon this week was just another display of her bizarre behavior.
"I don't know what she was on exactly, but she was definitely on something," a source said about her visit, where she kept her sunglasses on for virtually the entire four hours and then emerged with very blonde hair.
Amanda continued her rant about her hair and then about threatening legal action against the E! Network this time.
"I have extensions but you can see them! Loving your shows but suing you for spreading lies about me on your website! Thanks for being my fan! True friends don't spread lies about me so I can't follow anyone from your network on twitter. I'll sue you everytime you post a lie with a paparazzi shot, I tell you everything that is going on about me on twitter.
She has been extremely vocal about the photos that have been published of her and hit back again about wanting to control the photos sites use.
"Only choose the paparazzi pics that I select and post on twitter and my personal pics when talking about me! I tweet all day about nothing just like everybody on the face of the earth! Thanks!"
Amanda also slammed a RadarOnline.com report that her parents were "very upset" about Kim Kardashian's comments about their daughter.
"I don't speak to my parents anymore, they don't talk to reporters on my behalf. Don't believe anything you read about me unless I tweet it," the troubled actress tweeted on Thursday.