Exclusive
Amanda Bynes Parents 'Very Upset' About Kim Kardashian's Comments About Her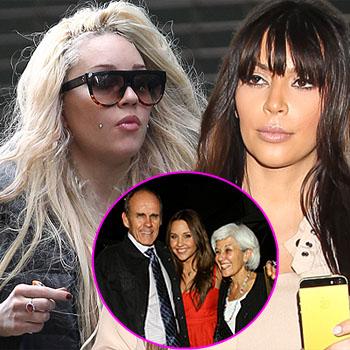 The parents of troubled ex-Nickelodeon actress' Amanda Bynes were left "very upset" about comments Kim Kardashian made praising their daughter's drastic transformation, RadarOnline.com has learned.
As we previously reported, the E! star appeared on Chelsea Lately earlier this week and declared that she was "obsessed" with the out-of-control starlet and praised her amazing "makeover."
And it didn't sit well with Bynes' concerned parents, Lynn and Rick.
Article continues below advertisement
"They thought the remarks Kim (Kardashian) made were in poor taste and are very upset about it," a source close to the situation told RadarOnline.com.
"It doesn't take a rocket scientist to look at Amanda and surmise that she is having some sort of crisis.
"Her makeover is just one example of her troubling behavior. Her parents just wish the media would leave Amanda alone, because it's only making the situation worse. Amanda is lost and she refuses to get help.
"Her parents are powerless to do anything because she is 27 years of age and there is very little they can do, under the law."
During the Kim's role reversal appearance on Chelsea Lately as cohost alongside sisters Khloe and Kourtney and their momager Kris Jenner, the pregnant reality star gushed over Bynes.
"Am I the only one that is obsessed with her new makeover?" Kim said.
"I think she looks amazing. With the blonde hair and those nails?"
Article continues below advertisement
Having watched the episode, Bynes took to Twitter to share her apparent joy at becoming a late-night talking point.
"I love the beautiful Kardashian sisters!" she Tweeted.
In addition to her dramatic "makeover," Bynes has been engaging in all sorts of bizarre behavior after numerous run-ins with the law, including posting provocative tweets proclaiming "I want @drake to murder my (lady parts)" – and piercing both of her cheeks.
Said our source: "Amanda's parents hope that people, including Kim, would show empathy towards their daughter at this time.
"Even if Kim was joking about Amanda's appearance, it really isn't funny. Amanda is in trouble and she doesn't need to be a punch line in a joke."