Woman Who Was Nearly Decapitated By Jealous Lover Gets New Face From Plastic Surgery Charity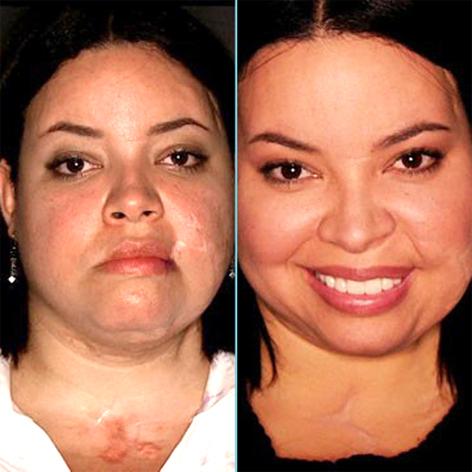 A woman who was nearly decapitated in a violent attack by her obsessive boyfriend has a new face and a new chance of life, thanks to a team of charitable surgeons.
Ilianexy Morales was in her 20s when when she began dating an older man who she met outside her New York City home, and what started out as a supportive relationship with him helping to take care of her four-year-old daughter and bedridden mother soon turned into a cycle of manipulation, possessiveness and jealousy, reported ABCNews.com.
Article continues below advertisement
Three years later the control issues hit an all time horrific high in 2005 when Morales attempted to end the affair and her angry lover stabbed her over a hundred times with a butcher's knife, partially severing her arms and nearly decapitating her.
"All of a sudden, he took out this knife from his sock…he started attacking me immediately and didn't even give me time to react," she recalled, describing the terrifying ordeal. "I was in complete shock. I couldn't get out and couldn't do anything. He was so fast.
"The last thing he did was the face. I remember going in and out of consciousness."
Almost killed in the violent rage, she spent several months recovering in a coma and underwent multiple surgeries to reattach her arms, while her former boyfriend was sent to prison for 15-years for assault with a deadly weapon.
What the years of recovery still failed to heal, however, was her once beautiful face.
"I didn't look like me," said Morales, now 30. "I would hide a lot. I felt really ashamed of myself even though it was not my fault."
Article continues below advertisement
"It wasn't just a simple scar. She was almost stabbed to death. She probably would have been killed if he wasn't stopped by a neighbor. He was going to finish her off."
When Morales finally received her facial and neck surgery, she also got a new set of teeth - because every one had been knocked out in the assault - and a loving new boyfriend who she says is stable psychologically and truly loves her.
"Finally, because of the surgery, I am able to appreciate people and life again," she revealed.
Face To Face is the charitable arm of the American Academy of Facial, Plastic and Reconstructive Surgery and its domestic violence project was launched in 1994 following public outrage over the O.J. Simpson arrest and murder trial. Even though Simpson was exonerated, the organization made a large donation to the Nicole Brown Simpson Foundation.