Whitney Houston's Secret FBI File Released, Reveals Payoffs, Threats & Government Interviews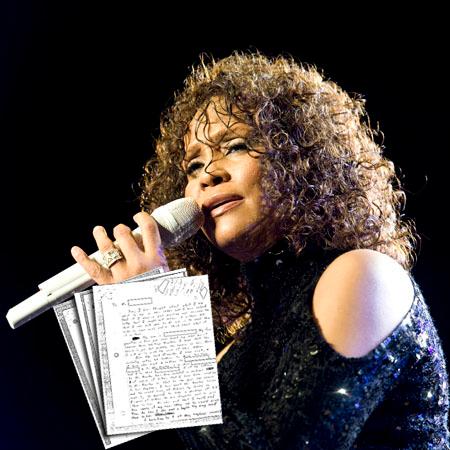 The FBI kept a 128-page file on Whitney Houston with details that included an alleged blackmail demand, a payoff by the singer and extensive 11-year monitoring of the star by the Feds, RadarOnline.com is reporting.
The file, just released by the FBI, shows many letters to Whitney were sent to government laboratories for analysis and attempts to lift latent fingerprints.
One page is marked "Whitney Houston victim extortion" although the FBI later concludes that no crime was committed and it appears that the singer and the unknown person, who was demanding $250,000, came to a confidential settlement.
Article continues below advertisement
Other pages in the file show the price of fame, including one from a man pledging his undying love for the singer, who finishes his love letter by writing, "I am in love with you. Please believe in life and in love."
Another letter in Whitney's file says, "over the last 17 months I have sent, including notes, 66 letters to Miss Whitney." The writer claimed to have met Whitney's father and that he agreed to take a package of 37 copies of letters to his daughter.
"When I first fell in love with Miss Whitney I tried to ignore what I felt towards her," a letter read. "After 5 months I had to do something and so I started writing letters."
The FBI tracked down and interviewed some of the more aggressive letter writers, determining they were not threats.
Whitney died at age 48 on February 11, 2012 in a bathtub at the Beverly Hilton Hotel, with drugs in her system.
Article continues below advertisement
Interestingly, the file contains memos about opening an investigation into blackmail and extortion of Whitney. Much of the material is heavily redacted but it seems that the person trying to get money from Whitney once worked for her and was sent a confidentiality agreement by John Houston, Whitney's father.
One newly released document is from late 1993 when an assistant U.S. attorney is made aware of correspondence to Whitney demanding $100,000 in exchange for keeping "certain details" of her life private.
"If the $100,0000 is paid then (redacted) is willing to sign a confidentiality agreement and promise not to reveal the information," the letter reads. The AUSA recommended opening a case on that one.
The file also contains a copy of a termination and confidentiality agreement concerning Whitney. Documents show that on November 23, 1992 the FBI met with Whitney's attorney over a letter she received that was characterized as an extortion demand.
Article continues below advertisement
The FBI chased down several people who wrote letters that could be construed as threatening. One person interviewed was told this according to the file: "He was informed that his actions constituted a violation of U.S. federal law and that if he continued he would be prosecuted."
The file also contains copies of envelopes sent to Whitney, receipts from various government labs that analyzed the material and a lot of heavily redacted material, particularly in the alleged extortion attempt which was eventually deemed not a crime.
One letter between a government attorney and special agent says, in part, that a letter was sent to Whitney with the writer conveying this message: "I might hurt someone with some crazy idea…"
The feds found the writer, interviewed him on June 8, 1988 and said "he advised that he had not intention of threatening or harming Houston."