Cissy Houston Says Whitney's BFF Was Worried She Had Drug Problem As Early As The 80s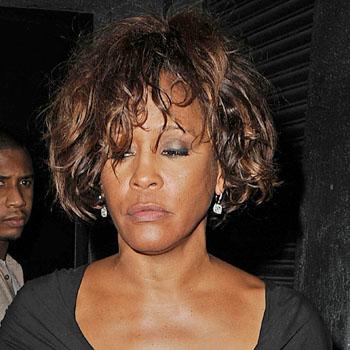 Whitney Houston was falling deep into drug use as early as the 1980s, and her best friend Robyn Crawford tried to warn Whitney's mother Cissy Houston, RadarOnline.com is reporting.
In Cissy's memoir Remembering Whitney, she says that in 1987 Whitney bought her Mendham estate and invited Robyn to move in with her — which she was less than thrilled about — but despite their rocky relationship, Robyn tried to convey her worry of Whitney's drug use to Cissy.
Article continues below advertisement
"One afternoon in the late 1980s, Robyn came to visit me. I was surprised, since she and I never said much to each other, and I always tried to stay out of whatever was going on between her and my daughter. But Robyn came to me because she was worried about Nippy," Cissy wrote.
"She told me that Nippy was using drugs, which was news to me — I had no idea about anything like that. Robyn said that both she and Nippy were doing it on occasion, but that 'Nippy likes it a little too much.' Apparently, if they had it in the house, Robyn could do some and stop. But Nippy would keep on doing it until everything was gone."
Cissy said she immediately approached Whitney about her drug use, but the I Will Always Love You singer brushed her off.
"After that conversation with Robyn, I asked Nippy about using drugs. 'Oh, Mommy,' she said, 'you don't need to worry about any of that.' She just brushed off my concerns, saying she was fine and that Robyn was overreacting," Cissy said in the book.
"Much as I wanted to press the issue further, I didn't have much choice but to accept what she was saying — at that point, she was doing everything she was supposed to be doing: touring, recording, making appearances, and everything else. And whenever I talked to her, she seemed to be fine."
Article continues below advertisement
Cissy said she felt helpless writing, "I didn't have any proof that anything was wrong, and without proof, I couldn't push the issue with Nippy, since all she would do is deny it. I had checked in on her and made my concerns known — what else could I do?"
And while Whitney's close gal pal admitted to doing drugs with her, it was Whitney's older brother, Michael Houston, who takes the blame for introducing Whitney to the drugs that would eventually lead to her death.
"We got into drugs, we did that together too and it just got out of hand – it was rough," Michael said, admitting the two did crack cocaine together.
"At the time, in the 80s, it was acceptable. In the entertainment industry, it wasn't a bad word like we have now," he said. "It just happened… I can't say exactly when. We were traveling, late 20s, that money, just got caught up…it's been a battle ever since."
Remembering Whitney: My Story of Love, Loss, and the Night the Music Stopped is in bookstores now.