Exclusive
Terminally Ill Dad Who Won Marathon While Pushing Daughter In Stroller Says 'I Revolve My Life Around Her'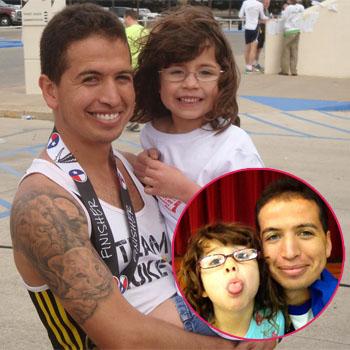 The touching story of how he won a gold medal running a marathon while pushing his daughter in a stroller has touched the hearts of many.
Now Iram Leon, 32, who has inoperable cancer and has been told by doctors he may not see 40, opens up about the two loves that keep him going every day -- his six-year-old daughter Kiana and running -- in an exclusive interview with RadarOnline.com.
"If you ask my doctors those are always my two questions," he tells Radar.
Article continues below advertisement
"Am I still fit to raise a kid and am I still fit to keep running? Because one is why I get through the day and the other one's how."
Since being diagnosed with a rare brain cancer in November 2010 when he was just 30, Iram has gone through a divorce and lost his job.
But despite his financial burdens and knowing he will likely never walk his beloved daughter down the aisle the former probation officer has kept his spirits up. And he says that it's the simple things in life that he treasures most.
"If you woke up with a princess in your house every day there's no way to not be happy," he says.
"My daughter and I have planted a garden. I paint my toenails with her all the time. I go and have lunch with her twice a week at school and volunteer to read to the kids in her class.
"I revolve my life around her."
The keen runner says he entered the Gusher Marathon in Beaumont, Texas earlier this month by chance, when some friends invited him to do it with them.
Article continues below advertisement
He has run shorter races with his daughter in tow but he says that despite his best efforts marathon organizers have always denied them the chance to do it together. This time, however, he was lucky.
"I never tried to play 'the cancer' card," he says, admitting he knows why running with a stroller is not allowed.
"It's pretty obvious. You're going to get in people's way a lot more and they worry about if the kid falls.
"I understand this. I have no objections to that rule. I just thought I'd try."
But, despite never having run a marathon with a stroller, Iram crossed the finish line first, completing the race in just over three hours.
His plucky determination is obviously something his first grader off-spring has inherited. Kiana not only knows her daddy has cancer she goes to see his neurosurgeon with him, staying in the room playing with a pretend brain.
Article continues below advertisement
Iram says: "The other day she said: 'You know Daddy, no matter what the doctor says you're going to be OK'."
The young father says his daughter doesn't know that he is expected to die within the next eight years and it's something that he doesn't focus on.
He says: "Honestly, there's going to be a day when I can't take care of her and when that day comes it comes. But, until then, I'm going to give it all I got."