Terminally Ill Dad Wins Marathon While Pushing Daughter In Stroller, Vows Will Not Say On Deathbed 'Wish I Spent More Time With My Kid'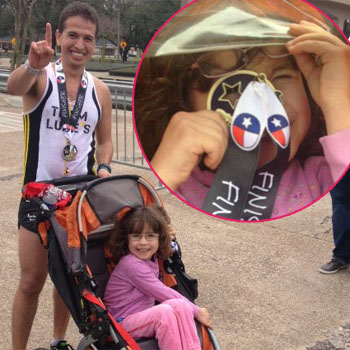 He is not allowed to drive a car or play contact sports like soccer and doctors say he may not live past 40.
But Iram Leon, 32 – who has inoperable brain cancer – has just won a gold medal for coming in first at the Gusher Marathon in Beaumont, Texas -- all while pushing his six-year-old daughter Kiana in a stroller!
The gutsy runner won't take the credit for being first though. He says that technically speaking his daughter is the winner because she was in the stroller he was pushing ahead of him.
Article continues below advertisement
Writing on his blog after finishing the race in just over three hours last Saturday, Iram said: "Here sore, reflecting and grateful. I still can't believe that I won a marathon.
"Well, I came in second behind Kiana."
Soon after being diagnosed with Grade II Diffuse Astrocytoma at the age of 30, Iram decided he would no longer run without taking his daughter – who lives with him the majority of the year – along.
He told The Huffington Post : "The one thing I'm not going to say on my death bed is: 'I wish I spent more time with my kid'."
Little Kiana knows her daddy is sick. His condition affects his memory and language skills and she has seen him suffer seizures.
Father and daughter have even practiced "911 drills" at home so the first grader knows what to do if he has a medical emergency at home.
Since his diagnosis Iram and Kiana have competed in half a dozen races but until last week running a marathon together had eluded them because organizers wouldn't let him do the race pushing a stroller.
Article continues below advertisement
As he passed the halfway mark in just under 90 minutes he suddenly began to realize he might actually win.
He says on his blog : "Was there a possibility that I could win not a division, not an age group but a marathon with my inspiration directly in front of me?"
The devoted dad gave his hard earned gold medal to his daughter.
He says that he ran the Gusher marathon "against the wind and uphill with my princess and inspiration a step ahead of me..."