Big Hit! Reese Witherspoon Knocks $3 Million Off Asking Price Of Ojai Home — Take A Peek Inside!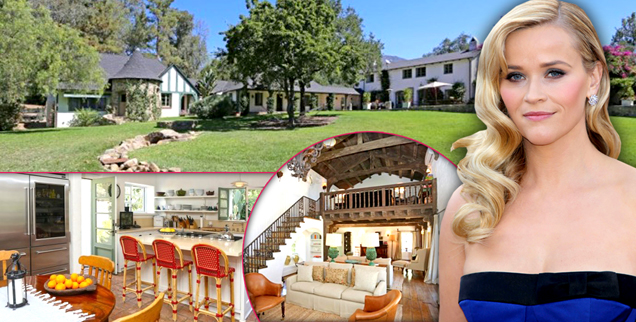 Reese Witherspoon has found out the hard way that it's not a buyer's market at the moment as she is forced to slash the asking price on her listed Ojai house to $7.25 million.
As RadarOnline.com previously reported, back in October, the Legally Blonde actress listed the beautiful Californian rural retreat home for $10 million, but there were no takers.
Then, just a month later, the 36-year-old Oscar winner reduced the price once again -- to $8.9 million -- but still couldn't drum up any interest in the ranch-style property.
Article continues below advertisement
Maybe it's a sign she shouldn't sell up? After all, it was the house that provided the location for her wedding to husband Jim Toth last year.
Plus, it's very much a family home, with Reese and Jim, her daughter, Ava, 12, son Deacon, 8, and new baby Tennessee, choosing to spend weekends at the serene spot, which has a swimming pool, barn, horse paddock and guest cottages.
In an interview with Elle Décor last July, Reese revealed why she loves the home so much.
"It reminds me of growing up in Tennessee, where we spent all day outside," she divulged. "I wanted my children to have that experience, to get muddy and hang out with the animals."
She added: "It is meditative and restorative. As soon as I drive through the gate, I relax. The air is fresh, the phone isn't ringing, you can't access e-mail.
"Time slows down. Within an hour I'm lying on that couch taking a big fat nap. It's like having a little bit of Tennessee in California."
The home is set on seven acres and is listed on Redfin as boasting four bedrooms, three bathrooms with beamed ceilings and a large, bright 'country kitchen.'
Reese's Ojai house was also the place her pal Robert Pattinson escaped to after photographs of his on-off girlfriend Kristen Stewart kissing married director, Rupert Sanders last year.