Racially Charged Comments From Oscar Pistorius' Gun-Toting Father Sparks Family Feud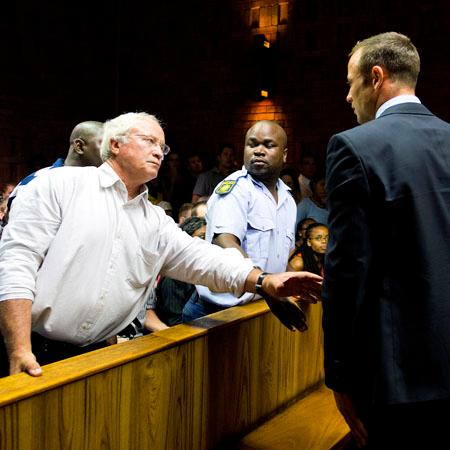 Shamed Olympian Oscar Pistorius has enough to worry about without his father making a terrible situation even worse with racist comments that have outraged many South Africans, including members of their own family, RadarOnline.com is reporting.
Henke Pistorius publicly defended his murder suspect son's decision to keep firearms at his home by blasting the government and the ruling of the African National Congress party over the escalating violent crime rates, reported the UK's Telegraph newspaper.
Article continues below advertisement
"Some of the family's guns are for hunting and some are for protection, the handguns," Henke told The Telegraph. "It speaks to the ANC government, look at white crime levels, why protection is so poor in this country, it's an aspect of our society."
As RadarOnline.com previously reported, the 26-year-old phenomenon nicknamed "Blade Runner" is facing life in prison if found guilty of the Valentine's Day murder of his model girlfriend, Reeva Steenkamp, whom he claims he shot accidentally believing she was an intruder.
While it is true that the crime levels in South Africa are among the highest in the world with 15,000 people murdered last year, Henke's emphasis on attacks on white people has sparked an outcry of racism.
"You can't rely on the police, not because they are inefficient always but because crime is so rife," he went on to say, explaining that although he has not yet had to use a gun himself in self defense. "That doesn't mean I haven't been hijacked, attacked. As a family, we value life much too much to produce guns at every opportunity we can use them.
Article continues below advertisement
"I have been in positions where I can use a gun but we have been brought up in a way that we value the lives of others very highly."
Henke's comments have ignited a very public feud with the rest of the Pistorius family and the reputation management firm it has hired to quell any negative publicity that could have a detrimental effect on the fallen sports star's criminal case.
In the wake of the scandal, they issued a statement on Tuesday saying the family "is deeply concerned" about the father's interview that "doesn't represent the views of Oscar or the rest of the Pistorius family."
Arnold Pistorius, the Olympian's uncle, was quoted as saying, "The Pistorius family own weapons purely for sport and hunting purposes. Henke's interview with the newspaper was unapproved by our media liaison team."
The ANC has also voiced their offense at Henke's damning comments, saying it "rejects with contempt" the accusation that the government doesn't protect white South Africans against crime.
Article continues below advertisement
"Not only is this statement devoid of truth, it is also racist," spokesman Jackson Mthembu said in a statement. "It is sad that he has chosen to politicize a tragic incident that is still fresh in the minds of those affected and the public."
According to Beeld, an Afrikaans language newspaper, Henke, Oscar's grandfather Hendrik, and his uncles Arnold, Theo and Leo own a combined total of 55 shotguns and handguns.
The chairman of the firearm collectors association Lowveld Firearm Collectors Association said that the paralympian joined last April, claims he bought six guns for what he planned to be a collection of U.S. and South African-manufactured firearms, including a Smith & Wesson 500 described as "the most powerful production revolver in the world" and a 223-calibre semi-automatic rifle similar to that used in the Sandy Hook school massacre last year.
As in America, gun ownership is not unusual in South Africa, where last year out of a population of 49 million people, 1.7 million were registered firearm owners holding a total of 2.9 million guns.